Action Puzzlers have really found their place on the iOS. With titles like Robo5, Gears, Dark Nebula, Edge, Squirmee, Swingworm and loads more, developers have really taken advantage of the touch screen, and accelerometer capabilities of the iDevice, and at the same time, given us extremely entertaining and challenging gameplay. Angry Orange's Glow Worm is one of the newest additions to the Action Puzzler genre, meshing together a nice challenge with arcade type gameplay, and toping it off with great graphics and tight, simple controls.
The goal in Glow Worm is to get all of the bacteria into your molecular orb. Doing this will not be an easy task, as you'll need to avoid all of the hazards, make it through tough situations, and make sure that your glow worm does not run out of energy. As you guide more and more bacteria into your orb, you will gain little bits of energy for your glow worm, but not enough to be making mistakes around every corner.
In most levels, you'll have to maneuver the bacteria around rotating X Cells, and avoid touching the Red Cells, which destroy the bacteria on contact. To clear a level, you need to guide every bacteria to the molecular orb. Missing one, like having one bacteria touch a red cell, or leaving it out in the open, or running out of energy will result in a failed level, though this doesn't become apparent until you actually complete what you can of the level, and nothing happens. Having no leeway with how many bacteria you need to collect to move on from level to level can get pretty frustrating, but that's where the challenge comes in. However, there is almost always a pretty thin line between all out frustrating, and challenging. In the levels where the rotating X Cells cause the bacteria on both sides of the level to move on their own towards red cells, giving you hardly any time to collect them before they're destroyed can seem a little unfair, but if you're quick, it's definitely possible to complete. Thankfully, Angry Orange has done a very good job walking the line of challenging while keeping the game fair.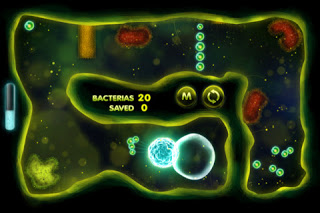 To collect the bacteria, you'll need to place your finger on the glow worm, and drag where you want to move to. Once you're in position, tapping on the worm will cause it to turn into a magnet of sorts, drawing all the bacteria that's within range close to it. Here is where the energy of the glow worm comes into play. You only use energy when the glow worm is acting like a magnet, so you'll need to activate it, and then quickly turn this ability off, having the bacteria use the inertia to keep moving in the desired direction. If you keep the glow worm's magnetism activated while dragging the bacteria all the way to the orb, you'll run out of energy very quickly.
Right now, Glow Worm is $0.99, and Universal. There is no GameCenter or OpenFeint support, and no in-game achievements. There's also only 18 levels, and with the strict level progression guidelines, there's no star ranking system like in most puzzlers, leaving little to no room for replay value. But the graphics are nice and crisp, the BGM is great, and fit's the feel of the environments, while the gameplay is challenging enough to keep you busy for a while. If you're easily frustrated by puzzlers, Glow Worm is probably a game you'll want to stay away from, but if you're looking for a challenge, and don't mind low replayabilty, and no online support, it's a game that's worth checking out.