Retro Racing-What's in a Name? Everything.
Mysteriously, on March 23rd, Retro Racing was randomly pulled from the app store. Now, after a glitch-up on Apple's side was corrected, it's back on the app store and available for everyone again. In a nutshell, Retro Racing is, as one could assume from the name, a nostalgia-inducing racing game. Developed by Mr. Qwak, also known as the makers of All Terrain Racing and Nitro, two classic Amiga racers, it brings to the table a nice experience of retro fun, but not without a few flaws.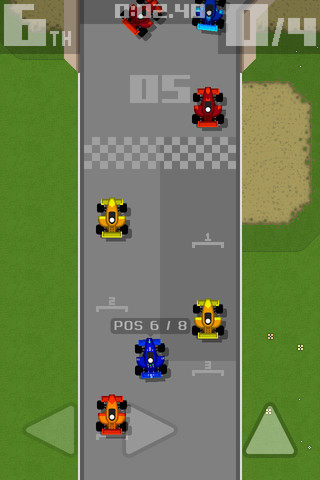 Controls
In Retro Racing, the controls are fairly simple: tap on the forward arrow to go forward and the sideways ones to go sideways (sometimes called turning.) If when playing this game you can't understand that, even after the tutorial, and you aren't a cat, I will personally write a letter of apology to your pride. Anyhow, the controls work alright, but they feel very cramped, mainly on iPhones or iPod Touches (on the iPad it's much better.) One nice option would be an 'auto-gas with left and right arrows on the sides' control scheme or a landscape mode, both of which might help ease the controls' weaknesses. Still, the current controls just don't seem good enough most of the time. At times they work decently, but the sensitivity sometimes can be hard to judge even then, leading to crashes in-game. Most of the time though, they work fairly well, but they don't provide the best possible execution consistently.
3.5/5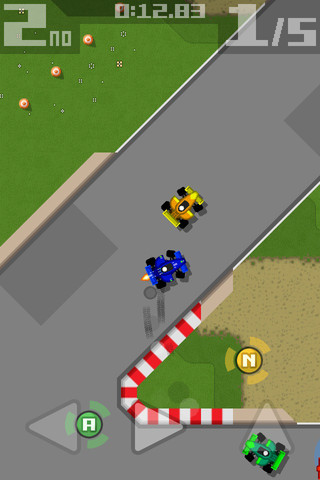 Graphics/Gameplay
As the name implies, Retro Racing employs retro-styled graphics. While they're not stunning, they get the job done perfectly well. It also plays great and is very enjoyable. As you could guess, the goal is to race through each level as fast as you can and to get first place. There are leaderboards for every track, fitting the style and pace of the game. There's also a nifty two-player mode which pits you against another opponent (one-device only), which works very well and is really fun as well, even on the smaller iPhone. This is available for both iPhone and iPad after the recent update. Each race also has a variety of "power-ups" that boost your stats, plus nitro boosts as well. These make the game fun and fresher at its lower moments. While its still a stereotypical racing game in many aspects, it creates a fun-filled nostalgic game.
4.5/5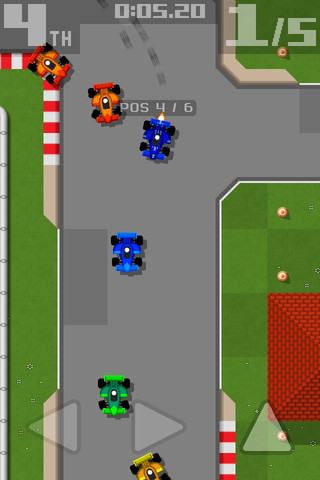 Level Design
The highlight of the game, though, lies in its nifty level design. In most racing games, the level's just the track and where it turns. That's not the case in 'Retro Racing'. Each level is packed with a good amount of power-ups, extra paths, and more that make each level fresh and fun. False turns, cones, walls, and other cars all stand in the way of you and the finish line. The most enjoyable part of the game is how much the level design plays a part into the game. A nitro power-up could propel you into first place. Crashing into cones could lose you a position, while turning on a false turn could destroy your shot at taking the checkered flag. The level never feels unjustly made; even the frustrating moments make me want to play more. Each level feels carefully made to be the best it can be, and in turn propels the game
5/5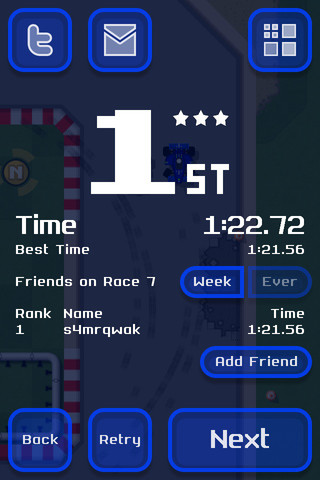 Balance
The weakest point in the game, however, lies in its balancing. If you ever want to achieve a score anywhere high in the leaderboards you have to purchase an extra $.99 car pack, which unlocks the final three cars, meaning that if you care about that type of thing, you will be wanting to buy the iAP, which seems missing in tact and unfair. The game feels somewhat balanced in its 'campaign', with the basic cars (and very rewarding when you win) but would get too easy with the iAP cars since their stats are over twice as high as the best of the basic cars. Plus, all the basic cars are unlocked from the get-go, meaning there's no sense of progression there, besides levels. Often times that's simply not enough, which can lead the game down some dire straits.
3/5
Overall:
Retro Racing is a nice game weakened by so-so controls and imperfect balancing. However, if you're a fan of the 'retro' or of the 'racing' then these problems are easily overcome by the sweet level design and fun gameplay, providing a very fun approach to the racing genre.
4/5