There have been quite a few additions to the Speedrun Platformer genre in the AppStore over the last year and a half; Leage of Evil, Mos Speedrun, Commander Pixman, Meganoid, Stardash, Little Acorns and more have provided some great challenges for the more hardcore platform gamers. Well, this Wednesday, casual gamers will be invited to take part in the fun as well, with the release of BeaverTap Game's Mikey Shorts, a casual speedrun platformer that doesn't have insanely strict times, but still provides a challenge for the more hardcore players. I was lucky enough to help beta test this fantastic game, checking out every little nook and cranny, and believe me when I say I haven't had this much fun with speedrun platformer since I got into Mos Speedrun. We were also lucky enough to
be
able to pull the duo away from their busy lives for a couple minutes and ask them a couple questions about this supremely awesome title.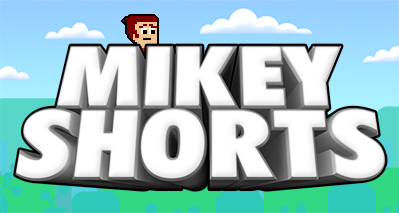 Now, I don't really know the details behind it all, but I do know that the two of you met on Touch Arcade while battling it out on OpenFeint and GameCenter for top scores in Hook Champ and Mos Speedrun. Are there other titles that brought you two together? When did you two start really talking about starting up BeaverTap Games?
We were both invited to beta test for Rocketcat Games in early 2010. While competing against each other in Super Quickhook, we started communicating via email and found that we were both interested in making an iOS game at some point. By the end of the year, we finally got around to making it a reality.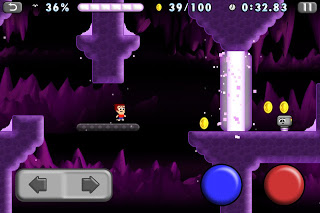 How long did it take you two to create Mikey Shorts, your first foray into the iOS development scene?
We've been working on the game in our spare time for over a year and a half, but we really stepped it up in the months before release.
Mikey Shorts is another great addition to the Speedrun Platformer Genre. However, having more lax times for the levels opens the game up to a more casual audiance. What made you two, being the hardcore speedrun mongers that you are, decide to drift away from the strict time limit challenge that most games within the genre have?
We love competing with other people more than just passing a level. We wanted to give every player a chance to do well in the game and show them that earning three stars on a level isn't impossible. For the more experienced players, trying to rank high on the leaderboards should provide an extra challenge.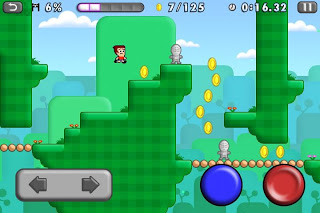 Are there any games that directly influenced Mikey Shorts, and are there any development teams that influence how the two of you have decided to build up and run BeaverTap Games?
We were influenced by classic console platformers, but we also looked at some of our favorite 2D platformers such as Hook Champ, Super Quickhook, Mos Speedrun, and League of Evil. We're following the lead of a lot of developers that communicate with their players and are open to feedback.
Like other genres, there are a lot of different aspects that are incredibly important when creating a platformer; Controls, physics, level design, inertia, ect… is there any one thing that really gave you two a hard time, drove you crazy or that you guys found especially challenging while you were developing Mikey Shorts?
The controls pretty much make or break a platformer on a touch screen device. We spent a lot of time fine tuning the button placement to make sure the majority of players feel comfortable from the start. We also allow the player to customize the placement of the buttons.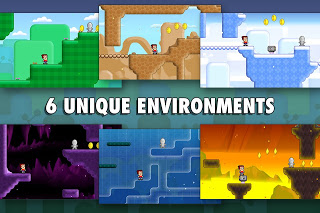 It's pretty clear that the two of you take iOS gaming very seriously. Is the iDevice your main gaming platform, or do you guys prefer playing console games? 
With so many great games, we both consider iOS our gaming platform of choice.
What engine did you guys decide to use to create Mikey Shorts, and why did you decide to go this route?
We chose to use the cocos2d framework because of the community support. There are a lot of tutorials and friendly people willing to help out developers. We use the Box2D physics engine because it's well documented and used in many cocos2d tutorials.
Now that you've got one game release under the belt of BeaverTap Games, what's in store for the future? Are you guys already kicking around some more ideas for your next game, or are you going to primarily focus on expanding Mikey Shorts for the time being? Do you think there's any chance iOS gamers will see a Mikey Shorts 2 in the future?
We're going to focus on trying to make Mikey Shorts even better with updates. Then we'll continue Mikey's adventure in a sequel!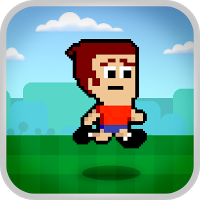 Again, we would like to thank BeaverTap Games for taking the time to answer these questions, and we can not wait to check out the final build of Mikey Shorts this Wednesday night. You know we'll be posting up a review of the game this Thursday, so if you want to know more about Mikey Shorts, make sure you check back then for a full, in-depth review of the game. You can also check out the trailer below, as well as head on over to the
BeaverTap Official Site!