Samsung has managed to provide a massive range of mobile devices that has impressed users every time. The latest Edge feature on the devices is by far the most impressive as it offers a lot more options and functions for users to take advantage of. Many apps provide additional features for the Edge feature that enhance your device and functionality even more. These apps are available for other devices, but with the Edge device, it is without a doubt more user-friendly and usable. Below, we will look at a few of these apps and the extra features they provide your Edge device.
Quick Launch
Quick Lanch is actually a standard app for Samsung devices, but sometimes requires a download for the Edge devices. Once installed, users will be able to access a range of apps on the Edge of their screens even when the device is locked. Setting up the app only takes a few minutes and allows users to add any installed app to the quick launch feature, which gives you instant access when swiping your finger up and down on the edge of the display.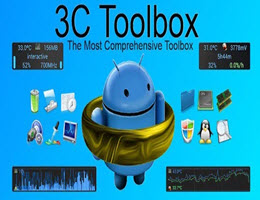 3C Toolbox
3C Toolbox is a one-stop app for all the controls on your device. The app allows users to take control of running apps, enhance battery live, manage your apps as well as CPU usage among many other things to enhance your experience. In fact, the all has so many options that can be used to take control that all can't be mentioned in a single article. However, the apps also provide various edge features, which is what we are focused on.
Going into the app and tapping on all app settings, followed by notifications. A list of actions will appear, which include battery live, data usage, CPU usage and much more. Download the required ones and enable them to use the edge feature by going back to notification packages and into settings. The edge will now provide this information on the screen when you swipe up or down on the edge when the device is locked.