To technophiles new app launches are always like Christmas morning just before checking your Christmas stocking for its contents, with the gift stockings filled with possibility and expectation. Each new app may contain wonderful new features and they may just be the ones to fulfil the slight shortcomings of your current already brilliant app. Your current app causes its own discomfort like a tiny pebble in a very comfortable shoe, due to its absolute brilliance a slight possible feature omission can cause an irritation starting off tiny but growing in size, new apps in the situation delivers a new pair of soon-to-be even more comfortable shoes without that tiny little pebble to boot. Without further ado and herewith below, your potentially perfectly comfortable pair of new shoes.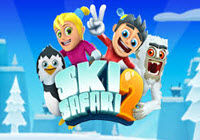 Ski Safari 2 replays its story as a 2D, infinite runner downhill where players will need to ski their path to victory. Players are constantly followed by a threatening avalanche ready to gobble and grind you up if you're not fast enough, providing a number of animal boosts and power-up features that appear and help players along their way players are given the option of choosing between two of the eminently playable characters, which offer two methods of transport. Additionally filled with even more excitement, players can opt to join an on-line multiplayer game, start customising their own gear, and several other features. The new sequel application remains downloadable as free play and as always totally family friendly, a number of in app purchases are available to further up the gameplay ante.
Drivemode is a latter-day application launch that attempts to keep its users eyes on the road while using their smart phones during self-drive journeys. Users new to utilising their voices to navigate their way around smart phones will have to bear through a small learning curve in the app's first few minutes of use. However after having learnt its various controls via touch only its users will easily take and make phone calls, read and answer text messages, control the music content on their smart phones including play, pause, fast forward, next track, et cetera. The app accomplishes its tasks via voice command intermixed and added to by bright colours that are utilised, it ultimately proves to be quite useful and easy to learn allowing its users eyes and attention 90% more time on the road.