Glitch art forms part of an eccentric new form of photo crafting that utilises visual bugs, or artifacts, as well as a number of analogue type errors, which traditionally would be considered undesirable to provide otherwise perfectly good conventional photos with a special style causing each creation to appear completely unique. The effects imbues photos with nostalgic effects that could possibly remind persons viewing it of the long lost VHS era, or even unlock a completely unexplored and new visual frontier that enable artist to express themselves via a new set and form of creative tools.
The new art style of glitch effects already entrenched itself to become a long-term permanent fixture in the world of photography and visual creativity, despite it currently is still considered as a niche art form. The apps under discussion below represent the best of its kind currently on the mobile market and can consider it a worthwhile addition to any modern photographic artist's much-needed creativity toolset.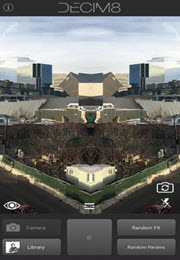 Decim8 is currently available at just $0.99 and it is the name would suggest provides artists with the capacity to turn completely great photos into unrecognisable piles of pixel mush. The app incorporates 27 unique glitching filters, all of which visual artists may choose to apply simultaneously. Budding glitch artists will do well to remember that the app utilises a layered approach, with each effect applied in a successive order and players can be swapped from front to back to create completely unique effects, where each layer provides the budding artist with completely tweakable parameters. If an artist runs into a visual version of writers block the app offers up a number of randomising buttons that surprisingly may result in an excellent final rendering if mashed a sufficient number of times. One of its greatest features is the capacity to save presets of particular glitch combinations a user falls head over heels for.
Hyperspektiv users can download the app for $1.99, and it too delivers 27 wacky glitch filters. The developers provided the app with a unique feature that allows its viewfinder to act as a conventional X/Y control of the parameters for each filter effect. Newly aspiring artists can simply slide their finger to the right causing the filter to of ever faster, or alternatively slide the thing upwards to create an increasingly intense effect. The great benefit of the above features is the capacity to record video as users play with the X/Y sliders in order to create a far more dynamic clip as an end-result.