Modern Western civilised society operates on the premise that its inhabitants choosing to partake in all the many benefits offered by its near endless technological advances are required to pay for them. However, in many instances inhabitants unnecessarily place themselves under tremendous financial stress due to peer pressure, below are two methods to alleviate some of those financial stresses that you as an inhabitant of Western civilised society might be paying for unnecessarily.
Alfred home security IP cam application now delivers personal home video surveillance in an entirely affordable way, preventing you from having to splurge a couple of hundred bucks to acquire a home security surveillance system. All it requires to operate is a cheap old phone with an operational camera that you might have chucked in the back of a drawer somewhere, and Alfred comes to the rescue. The creators focused on making surveillance and security via their Alfred app as cheap as possible by utilising the user's existing hardware, with further assistance from a setup process that is simplicity itself.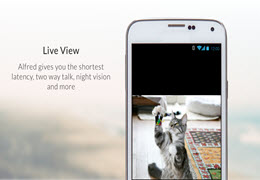 The only items required is your new daily phone, the Alfred app, and your old phone, together with a valid Gmail account to use for its login. The app then uses the camera on your golden oldie phone as a security cam, while your daily phone serves as the viewer. This is doubly effective since even the oldest cameras on mobile phones are superior to all but the most expensive IP cams, insofar as video quality is concerned. The Alfred surveillance app allows the setting of multiple cameras and viewers, with users able to switch between individual cameras in under three seconds.
In a further money-saving move, a new android app now provides you with the opportunity to win one paid app for free each day. The new app, titled Promo Codes offer each day's winning members a gratis promo code that allows them to receive a paid app of their choice at no additional cost to themselves. Even if you fail to win, you will receive a link to the Google Play Store's paid section to view what you could have won.
Once users have downloaded and installed the Promo Codes app they can click on a button reading, "I'm feeling lucky" to reveal the lucky winners and losers in just an instant. Users receive just one opportunity to win each day, fortunately tomorrow is just around the corner. Its current inventory of paid apps for free, includes top end titles such as Franco Kernel Updater, Nova Launcher, Today Calendar Pro, Relay for Reddit, Impressions, Focus, Shuttle, Progression, as well as Twee.