November is nearing its end and the Western world has arrived at the 2015 holiday season. In keeping with the period this month saw a mass of new game and app launches and in the upcoming period until Christmas the avalanche of new releases will only pick up pace. This is the time to spoil yourself with as many excellent new game releases and updates, if only it was easy to sift the wheat from the chaff. To assist with that tedious chore the list below should be of some assistance.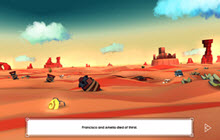 Cloud Chasers is available on Google play at $4.00 with zero in-app purchases, offers gamers a survival adventure that tells the story of a father and his young daughter who are attempting to improve the lives by reaching a better place to live. The character starts-off stuck in the desert where you will need to fend off baddies, while continuing find sustenance for your daughter and yourself. This game has consistently been described as beautiful, by all and sundry that spent a few hours at gameplay. The player mechanics a smooth and glitch free providing excellent control of your character manipulation and surroundings, take note the game is still early in its life and a few early bugs have been reported.
Minecraft: Story Mode is now available on Google play at $4.99 and feature in app purchases. This release is the latest in the adventure series from Telltale Games and this release offers players one craft style blocky graphics, without the normal open world exploring that is the usual nature of this game. This release challenges players with a storyline to play through, and this voiced by the all-star cast that include Corey Feldman, Brian Posehn, Patton Oswalt, and a whole load of other actresses and actors. Telltale Games once again allow player decisions to affect other stages of the story, which provides a nice touch with multiple possible playthrough's where each vary from the other.
Minions Paradise available for free on Google play however, with in app purchases. The game was originally scheduled to be launched simultaneously with the latest Minions movie, and the failure to do so and accompanying one-month delay disappointed all their fans. This vision requires players to assist Minion Phil in building a Minion Paradise for his fellow Minions. With you being in control of the full scope of his construction works. The game offers a nicely done world builder gaming style with a few frustrating unnecessary in app purchases if you want to experience a game in full.