As we all know, Android is currently the biggest mobile platform in the world. The fact that Samsung devices use the software already makes it massive. This means the app developers need to be on their game and provide a huge range of apps that appear to various audiences. Nothing everyone is the same, meaning the same app won't satisfy all users. We've seen a number of brilliant apps over the years, who only become more impressive as technology moves forward with devices. The new Samsung S7 and S7 Edge has already once again proven what possible, while the world wonders what could possibly be next.
For the reasons mentioned above, we've taken the time to put together a list of apps we found most interesting for the month of July. These apps did not appear in any order but caught our eye for various reasons. Some of these apps might be useful to you, while others don't provide any benefit.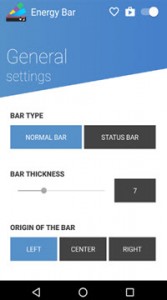 Energy Bar
Energy Bar is a battery management app that provides various features and options, making it perfect for any users that want to keep track of their battery usage. The app displayed your current battery level above the notification bar in a thin blue line, which can be adjusted in various ways including the thickness, auto hide when watching videos, and set it to display segments arranged in colors. The app also includes battery information, buts its main feature is to show simply the battery bar, which is very useful.
Glance Plus
Glance Plus is an app that allows users to take advantage of the always on feature on the Samsung S7, which makes the screen come on when waving over the device. The app can be used on any Android device and have various settings that let you choose how long you need to signal before it will come on, you can decide what happens when it's activated, and the wallpaper you prefer. There are many options to choose from, which appear on the screen when it's activated. These include different clock styles, calendars, notifications, and much more.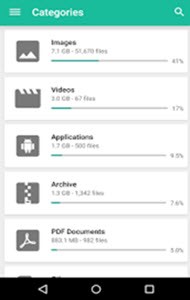 Unclouded
Unclouded is an app that puts all your cloud accounts into one app. This means you can see the files from them all, while also having access to the information of each, including space used and what's remaining. The app lets you take full control and also manage your files within it. This means you no longer need individual apps for each cloud platform used. You mobile memory is shown as well and making transfers between any cloud platforms to your device or memory card is easy and only takes a few seconds to update on both platforms. The app automatically categorizes all your photos, music, files, movies, videos, and everything else you might have, making it easy to find things and also see duplicates that can be removed. Various settings and options allow users to change certain aspects and making it more usable to each individual user.
Hooks
Hooks is an all in one reminder app for shows you want to watch. The app is connected to various guides, including cable, satellite, YouTube, and much more. This meaning if you want to look at a show a week from now, you can use the app to set a reminder. There are options to change when you are reminded, change sound settings, and much more. The app will include other related shows in a list below according to what you watch, making it quick and easy to select all your favorites and set reminders for them. The YouTube feature lets you choose the notification method, which ranges from live shows to being notified when a channel you've subscribed to has added new content. Furthermore, the app can also notify you of weather changes and warnings on specific areas or according to your current location.
The apps above are some of our favorites found in the month of July. There are many others out there that might not have been discovered, but might come up next time. In mean time, enjoy these while we hunt down the latest and greatest for August.