Super Crate Box for iOS is the lovechild of indie gaming studios Vlambeer and Halfbot.  Vlambeer, being new to the iOS crowd decided to collaborate with Halfbot, a studio that has already published their first game.  Though Super Crate Box or SCB for short was originally a PC game by Vlambeer, it translates well onto the smaller screen of iDevices.  The two studios spent countless hours perfecting the controls and cleaning up the code of the game.  The game was originally planned to be released in late December, but rather than rushing through the rest of their work they decided to postpone the launch and make it even better than it was before.
The new release date is five days from now on January 5th.
SCB is a game about speed, maneuverability and firepower. Your main goal is to collect as many crates as you can while dealing with the torrent of enemies flung at you over the course of your play session.  Every time you run over a crate you exchange your current weapon for another weapon you have already earned. This is both a blessing and a curse as you might get stuck in a situation with a gun that wont help you get out of it alive.  Crates are also important because they unlock new characters, weapons, levels and gameplay modes.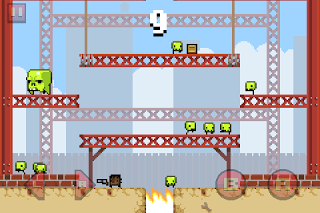 The controls are as tight as possible and I have not had any problems with them excluding human error.  The music is retro themed and gets your blood pumping. SCB is also Universal so it can work on your iPad and iPhone and has iCade support.
Overall this is a brilliant port and full of insane jaw dropping action that will keep you on the edge of your seat. At a launch price of $0.99 you wont want to miss this bad boy. Plus if a overall total of 5 million crates are collected by iOS gamers all over the world the developers promise to add iOS exclusive content in a update.
Here are some screenshots of the game in action:
(rather hard to catch good screenshots since this is such
a fast paced game)