Physics based puzzlers have pretty much gone overboard in the AppStore, with at least 2 or 3 being released every week, and that's not counting the massive amount released by unknown developers. Because of this, it's obviously pretty hard to find a title within the genre that will keep your attention beyond looking at the screen shots. Coffee Powered Machine, a two person development group based out of Argentina, took a risky chance having their first iOS release fit into the already cramped physics puzzler genre, but with Gravity Fleet, C.P.M. introduced enough fresh mechanics to keep players hooked from beginning to end.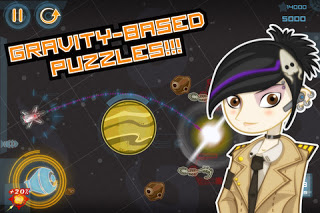 Gravity Fleet places you in space, going up against invading aliens. You're able to use the gravity of nearby planets, and sometimes their moons, to fire an array of different missiles at the invaders. There are 8 different worlds, each with 10 levels, and as with almost every other iOS game, a 3 star ranking for each of the 80 levels. Depending on how many missiles you use and how much health each of the planets have when you destroy the last enemy, your score will rise, and the stars are given to you based on your final score.
With each of the stars that you collect, you're given 5 coins which you can spend in the shop. You can also earn coins by destroying more than one enemy at a time, and you are also given coins by the game when it wants you to buy something in the shop, or a power-up to use in a certain situation. There are consumables which can help you quite a bit if you're stuck, like a "Gravity Visualizator" which shows you the path your missile will take based on the planet's gravitational pull, shields for planets, extra missiles, and "Precise Sight", which will show you exactly where your missile will land. These consumables are priced fairly reasonably, and you can also gain them in-game with random item drops when destroying enemies.
There are also permanent items which you can purchase; different ships, which are only cosmetic, and different assistants, all of which have a special perk like a 20% more chance to drop items, 20% larger explosions, 30% extra health for your planets, and more. As you guessed, you can also buy coins with real money through IAPs, but these are not needed to complete the game, and are there for a quick speedup through the game, to make the game easier, or better yet, to support the developers.
What makes the game stand out is the missiles that you're given. You start off with regular missiles, and from there, move up to missiles that have larger explosions, split into smaller missiles, lasers that cut through enemies, missiles that bounce off of objects and enemies, and even missiles that implode, sucking everything around it towards the explosion. To add to the difficulty, some planets have a moon, or moons, which rotate around the planets at a decent speed, as well as having some enemies which move instead of staying stationary. As well as having planets that can be destroyed, each of the planets has different gravitational pulls effecting how your missiles will arc around them, and there's even black holes in some levels, sucking missiles away into oblivion.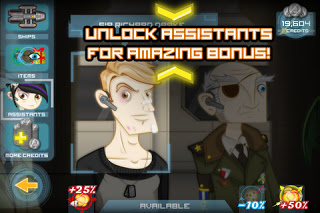 Right now, Gravity Fleet is definitely worth the $0.99 price tag if you're a fan of physics puzzlers. Being Universal helps quite a bit too. However, there is no GameCenter or OpenFeint support at the moment, but the developers are planning on adding GameCenter support along with new ships, new assistants, achievements, and of course, new levels. Coffee Powered Machine has definitely done a great job with their first iOS release, and will definitely be put on my list of developers to keep an eye on in the future.