There is no shortage of endless games on the App Store, and there is only one reason for this. THEY ARE FUN.  These days there are so many games appearing on the App Store that it is easy for hidden gems to drift by without a sound.  A new gem that should not be passed up is Ice Wings: Skies of Steel by MassiveFun3D. This newest addition to the App Store brings great visuals, an epic soundtrack, and frantic flying action together in an awesome endless arcade shooter.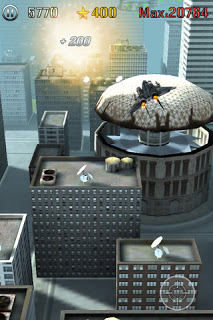 The visual appeal of Ice Wings is definitely what caught my eye first. Cool and clean is one way to describe it. The color-scheme and building style really creates the feeling of being in a war-torn environment. Now, this is not to say that the graphics are perfect though.  The textures are a bit rough at the edges, and when you get up to speed some of the enemies look almost 2D. To go along with the visuals, the soundtrack of the game is nothing short of epic. You know the sort of music that you hear in the Call of Duty series that always puts you in the mood for shooting stuff? The best way to describe the music in the game is a mix between CoD and Top-Gun style. This really goes to create an awesome experience while you are playing, and for that I think the composer (Dave Dexter) deserves a big applause.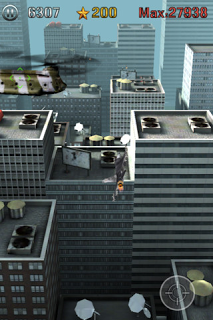 Moving on to the controls, Ice Wings utilizes a simplistic control scheme. A fixed shoot button (you can place this on the right or left side), finger dragging to move the plane left or right, and an upward swipe to dodge vertically.  My first few minutes playing the game were very frustrating as it took maybe 7 or 8 tries just to get past the first obstacle! Over at the TouchArcade forums, others have had the same trouble, but this is just a matter of getting used to the timing. Your plane is constantly speeding up, so in the beginning you have to wait until you are right up against the obstacle before dodging, whereas later on you have to dodge much earlier. In terms of obstacles, there is a variety ranging from train overpasses, to helicopters and cranes, and some more crazy ones like giant spinning blades and gates that slam shut with a tiny hole to pass through.  When you get going really fast, it becomes really difficult to see the obstacles coming, so you pretty much have to depend on luck. But hey, that's the name of endless games isn't it.
There are incentives to keep flying and crashing as well.  When you shoot down enemies you gain stars. These stars act as in-game credits to unlock new planes. Currently there are 4 planes total. The planes each have different stats in areas like acceleration, weight, and damage. This is what will keep you playing the game, and the developers will be bringing more planes in the future.
Speaking of future updates, the first update to the game is currently in the works. This will bring updated controls and hopefully some more customization. Some features that we hope to see in later updates are more obstacles (ie. some that you need to fly underneath), more maps, of course more planes.
This game is everything you could ask for from an endless game. It is nearly non-stop action, it has great visual appeal, it has an epic soundtrack, and it is from an indie developer. All of these are perfect reasons for you to get this game. It is highly recommended from me, and let's hope that we will see updates galore in the future. Check out the launch trailer after the score: