Hello everyone, in back from a hiatus with a game that has been released not long ago called Hypership Out of Control, from developer

Fun Infused Games.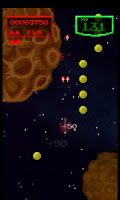 The game is presented in a retro old school pixel art style, both visuals and sound. Its fits the game pretty well, and I heard the icon is going to change to a Retina Display one, and they are investigating about the possibility of upgrading the whole game to be Retina Display. Its perfect and if you like pixel art, it cant get better than this… for now?
  The game is a hybrid of two genres perfectly blended together, it is half arcade and half avoidance game. Your ship has had a fatal error and cant stop so you are constantly moving and have to avoid several obstacles and enemies, and to make things worse (or more fun, depending on how you look at this) your ship is accelerating at a steady pace, and again, all this while collecting coins for a better high score. Luckily for you, your autofire is also broken and your ship is always firing, helping you to clear enemies and some obstacles along the way. And to help you out even more, there are power ups to collect. They slow down your speed (which is good), make you go faster, a better weapon and more. They are fun and useful.
   Controls are almost perfect and you control the game using a very easy method: your finger. That's all. One touch gameplay is what works best. So your own ability and reflexes are what works here, as I said earlier this game has a big avoidance part in it, your ship will travel really fast and some barriers arent destructible, so the game will put you to the test. But it has one fault, and its no other than not being able to see part of the screen due to your finger… this isnt a big fault, since you can press anywhere in the screen to move your ship and many other games have this issue also, so its not a big deal after all.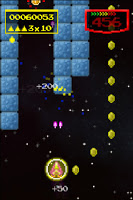 Replayability is good, you have four modes to explore. There is Normal, Hardcore, Coindown and Superspeed mode and you can play all of them in reverse mode. From all these modes, my favorite is Coindown. In it, there is a coin meter that depletes as the time goes on so you have to pick up as many as you can to stay alive.  All modes are actually great, except hardcore, but only because I didnt find it hardcore enough. There are 19 achievements to collect, and of course leaderboards, one for each mode, to compete with friends and the world. Features both GameCenter and OpenFeint.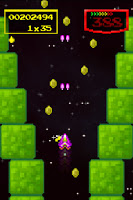 There are multiple sections you have to survive through, its a nice thing as it is constanly throwing new things for you to do, all being brilliant… but after a while, its endless soul appears and eventually you start to memorize paths as they are always the same, so a nice thing to do would be to randomize the levels so you have a fresh experience every time you play.
   This game has also been released for Xbox Live and WP7 if you happen to have one of those… and on Xbox Live features 4 players at the same time, which I think would be awesome to have that on the iPhone version as well.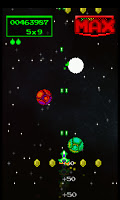 So i am having a lot of fun with this game, and so should you. Pick it up if you happen to like avoidance games, love pixel art or are just looking for a casual arcade snack.
Requirements:
Compatible with iPhone 3GS, iPhone 4, iPod touch (3rd gen and 4th gen), and both iPads. iOS 4.2 o better
A video to see it in action:
Check out their website for more info: