For the past week or so developers on Steam have been drastically cutting the prices on their games to just a few measly dollars. Once every 24 hours the new sales are revealed for people to peruse.  Today two iOS game developers have cut down their prices to the lowest they have ever been.  Those developers are Vlambeer and Trendy Entertainment.  Vlambeer recently submitted Super Crate Box to the Appstore and it is due out on January 5th of 2012.  Trendy Entertainment ported Dungeon Defenders onto mobile devices like iOS and Android.
In case you are out of the loop, Steam is a storefront for computer games that you can download onto your computer.  Once you have Steam downloaded you can buy a variety of games, granted that you have the proper computing requirements.  It's free and you can get it here: 
http://store.steampowered.com/
The two games that are on sale are Dungeon Defenders for PC and Serious Sam: The Random Encounter.
Dungeon Defenders by Trendy Entertainment
Dungeon Defenders is a tower defense/ action roleplaying game.  Your goal is to protect the Eternia crystals from the swarms of monsters that arrive in each of the areas.  Towers are a main focal point of the game and you place them strategically around the area in order to best defend your crystal. You can choose from 4 characters all of which have different skills and towers available.  The game is multiplayer enabled so you can play with people around the world. Though the iOS version cant sync back and forth to the PC version but in my opinion the game plays smoother on the PC.
Serious Sam: The Random Encounter by Vlambeer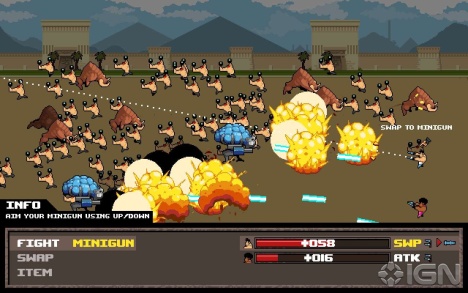 Serious Sam: The Random Encounter is a turn-based RPG that lives up to its name, it's extremely random. From aliens to insanely crazy weapons this is definitely a interesting game. It is definitely worth a shot for a dollar and you would have to be insane to pass up this offer.
Total for both games: 4.98 or 5 dollars after tax