Quick is an app that provides amazingly fast editing to all your photos and videos. The app will provide frames, add music to your videos, and even place frames around your selected pictures.
Many apps can be used to get the same effect as Quick, but the difference comes in by the speed at which the app does it. Users will be able to edit pictures manually or use the impressive automatic feature, which can detect faces and other important aspects of your images, meaning it places the frames in the right place and does not over the important parts of the picture.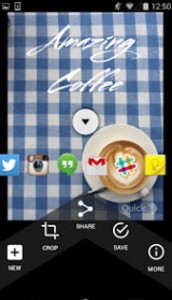 Users will find to edit a photo and add frames, and many other objects only take a few seconds. There is no need to edit your picture manually anymore. Just choose the colours you want, the theme you desire and let Quick put it all together for you.
The app also does a great job with video files. Choose the video you would like to edit and let the magic begin. The app will be able to add music, edit the video itself, change the brightness, and many other aspects to your clips.
Once your video is uploaded and you have selected the features required by the app, Quick will do the rest and show you the results within seconds. Should you decide something needs to be moved or the clip needs to be cut just a little more, you can take control of the manual edit mode.
With manual mode, users can expect all of the feature presented by standard video editors. This means you can add or change anything about your pictures and videos with just a few taps on your screen. It's recommended to use the automatic mode as it will adjust the video to your requirements, and then only take control of manual editing. This will give you a better finish and ensure the best of your pictures and clips are displayed.
The app is currently available for Android devices where users can take advantage of the free app. Many edit tools and options allow all users to create the most amazing frames and video edits.