iPhone users have always had the disadvantage of not being able to make use of memory cards. However, with the latest devices that use the Lightening cable, you will be able to choose from a massive variety of external devices that have a Lightening plug as well as USB, which can be connected to Windows or Mac PC's.
These devices can be plugged into your iPhone, allowing you transfer media devices, files, and contacts to your storage device. These external devices come with apps that provide various features and options that become available once the device is connected to your phone.
Leaf iBridge
The Leaf iBridge has one of the best designs we've seen. Created with a U shape, users will be able to plug in the device with just about any cover and not have the entire device sticking out beneath the phone. Instead, the biggest part of the device will be curled around to the back of the phone.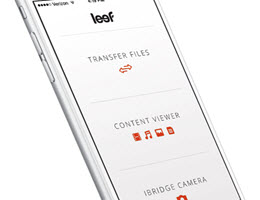 These devices range up to 256GB but are available in many smaller sizes. Users will not require any cables to use the iBridge as it has both a Lightening Jack and USB2.0. Once plugged into your iPhone or iPad, the device will automatically open its app and provide sync option that can either be done automatically or users can choose items that need to be saved to the device.
Users can also use the device to watch movies that have been transferred from a PC or Mac. Users will be able to access the camera straight from the device, allowing you to save picture and videos straight to the iBridge. This is a feature well worth using for devices that have lower storage capacity, especially when you use the 4K video option or create some amazing slow motion videos.
The Leaf iBridge is one of the most popular options that provide all the best features of an external device. The iBridge has become widely popular and will be available at most retailers that offer Apple Accessories. As mentioned above, prices will vary depending on storage size.