Toys are no longer just for kids as we've all seen adults enjoy the latest advanced technology available on the market. Many of these new "toys" can actually be controlled by your mobile device. Not only does this make it a lot more usable, but the developer can also include new features without requesting users to buy a newer model. While these latest inventions can be pricey, many of them also reasonably priced and include impressive features. Below we will look at some of the latest gadgets that can be controlled with your mobile device via apps.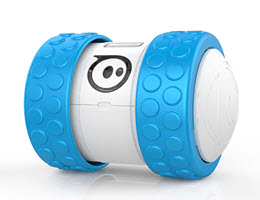 Ollie
Ollie is one of the most amazing remote control car like gadgets that can be controlled with your Android and iOS mobile phone. The gadget is bean shaped and has one 2 rubber wheel for ultimate grip, which allows you to pull off some amazing tricks. Ollie can reach speeds up to 14mph, perform quick turns or become the ultimate drift machine with smooth wheels. Users can take full control of Ollie with the free app that allows you to turn, speed up and brake with a single thumb. Speeds and all types of other features can be controlled with the app, which provides a radius of 30m with a Bluetooth connection.
Smart Plane
Smart Plane comes at a low price of just $67.99 and provides a full remote control airplane experience. This flow speed plane can be flown in or outdoors and is controlled by an Android or iOS app. Users will be able to enjoy flight for up to 30 minutes at a time and only changes for 15 min to full. The app provides a cockpit view where users can take advantage of various features and options for the ultimate experience.
Pet Cube
Pet Cube allows users to watch, talk to, and entertain their pets when their not at home. The device is a square about the size of your hand and has a built-in camera and mic. There is also a laser pointer that can be controlled remotely to have pets chase it around. The device is only $199.00 with a free app, which will even allow your friends to join in the fun.