It is clear that the Dish Network remains committed in the way we record television programs. The company was instrumental is making shifting location easy through the Sling Technology, a software that allows viewers to stream T.V content via the internet directly through home boxes to P.C's and mobile devices.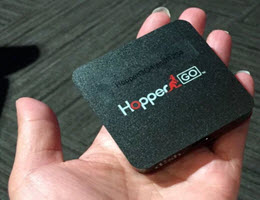 The Hopper allows its users to transfer anything they recorded to their mobile device and this has made. The Dish Network has released another option that permits recorded content to be viewed almost anywhere through a DVR hard disk drive. It permits viewers to transfer their content from a Hopper 2 or 3 to a unit that is portable. The cost is reasonable, set at $99 usd, and comes with a rechargeable battery that will allow for viewing of up to 100 hours of content.
One thing to note about this, is its small size. Dish Network made its name though the Sling Technology and it's anytime use, but Dish deserves recognition for its accomplishments in making its devices smaller. They are not at all obtrusive and are sleek enough for most people to not be concerned taking it with them as they travel. Measuring on 2.5×2.5x.5, the one drawback is misplacing it.
The new device shares the same Red and Black casing, just as most of the Dish Network products to, but it is distinctive in relation to its overall size and also as it only comes with two ports, a mini output and a micro one. It includes two indication lights to identify when it is charging or in use.