Android users that enjoy gaming on their mobile devices will be astounded by the gaming excellence displayed by the two games in the discussion below, both being new improved sequels to long-running highly popular games that have been given a new modern lease on life via its updated graphic capabilities, improved controls and excellence in Video gaming innovation.
Eternity Warriors 4 represents the newest in this series of fantasy RPG's from popular developer Glu. It involves players in a classical fairy-tale with the player having option to play as an assassin, a mage, or a warrior while travelling across its fantasy world in a quest to complete goals and upgrade his gear. The relative lack of originality is made up for by the exquisite styling, excellent graphics, and extremely good animations. Gameplay is superb with background textures and lighting effects creating a drama filled atmosphere, excellent smooth and accurate player controls contributes to the excellent fast paced action. Players will be carving up tons of bad guys in an action packed game that resembles an amalgamation of Diablo meets God of War.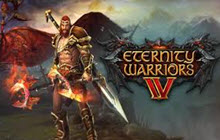 It is quite evident that its software has been created by team of gaming experts at the pinnacle of their craft, with the production standards being about the highest to be found available anywhere in the Google Play Store. As one of the free Android videogame titles Eternity Warriors 4 offers brilliant entertainment that includes one-on-one player battles as well as guilds that players may join where they will be able to quest sociably with other players.
Lara Croft GO follows on from last year's success that Square Enix's enjoyed with the Hitman GO video game, and now the developer has provided the well-established Tomb Raider gaming franchise with the same opportunity to build on its previous successes. Lara Croft GO is once again ensconced within Tomb Raider's familiar world, with the main difference being that it no longer plays exactly like the Tomb Raider titles of the past. This new videogame now offers turn-based play while focusing on the player resolving puzzles rather than being engaged in action as in past versions.
If this sounds like a bit of a copout players will be pleasantly surprised since it somehow just works, gameplay offers five chapters containing 75 unique puzzles, sporting brilliant cel-shaded gaming aesthetics with gameplay being of an acceptable length. The game also offers a number of in app purchases which are relatively inexpensive and does not represent anything essential to complete your missions/puzzles. However the in app purchases are well worth their while and players can take a look at them for five bucks, where after players free to request a refund if they dislike the contents.