More and More people from around the world are choosing to eat right and get fit, which has many benefits. However, all of us have had a hard time getting into the fitness mindset while relaxing or just not feeling like getting up on those cold mornings, which is where fitness apps for Android become the perfect motivation as many features are presented with each app and users get to challenge themselves and their friends.
We have selected some of the best tried and tested fitness apps that will keep you motivated, but also offer accurate results and the features that matter the most. The list is in no particular order as they all have benefits to offer your road to fitness.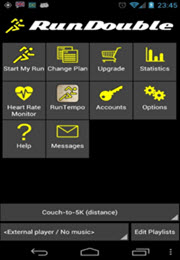 RunDouble
RunDouble is the perfect app to start out with for any beginner or someone who needs a bit more guidance. The app provides various features such as tracking you while you run, providing statistics on where you have improved, and much more. The impressive part is that users can set up schedules or choose one of the workout plans, which will push you to go further and get faster.
Calorie Counter
Calorie Counter is an app developed by MyFitness and offers a tremendous range of benefits when it comes to watching what you eat or how hard you need to work with that next gym session. The app provides a massive database that includes well over 4 million different types of food for you to choose from. Simply enter the app and choose the food you are eating to receive accurate results about your calorie consumption for the day. This is by far one of the most accurate counters we've seen as it includes serving sizes and ingredients.
NEXERCISE
NEXERCISE provides an app called Challenges, which has been created to make weight loss and exercise fun for all. The app lets you connect with friends and reach achievements as you go. The idea is to motivate users and their friends to see who hits the goals first. The app also includes an activity tracker, which will show you just how much you do without even t