Google Calendar has been popular ever since the first Android devices became available. Users had the ability to plan out their day, create reminders, set birthday reminders, and to just keep track of your day as you go.
However, many who use the feature have realized that life doesn't always allow you to get to things you need to or really want to. Something like a flat tire on the way to a meeting or friends unexpectedly coming over when you have exercise planned could have a bit of an adverse effect on your goals.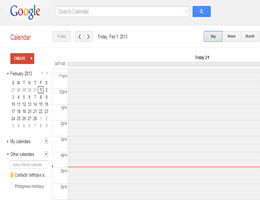 The latest version of the Google Calendar lets you take back the control as the app how has the option to change things around when the unforeseen events happen. The app will actually plan your day for you, allowing you to get to everything needed. This means you no longer need to move things around, try to plan out your day, especially when you don't have time. Users will be able to delay events no matter what happens. The app will automatically adjust your day and allow you to fit in as much as possibly still. If you missed the meeting completely, the app will remove it and place other things in its place, which also goes for cancellations.
With these features and those that have been offered with the app from the beginning, you will find yourself getting a lot more done as the app with move things up. For example, if a meeting get canceled and you have an hour open, the app will fill in that time with another small event that you had to remember, such as sending an important email or making a doctor's appointment.
Users will find a lot more can get done with simple reminders that suggest things when you do not consider them. Taking time for a quick workout or requesting that the app moves it up for you has never been easier. The app lets you set your schedule as to how often you would like to work out and how long. The app finds the time for these goals, which will be suggested, but can be changed as well.