Betsafe, a subsidiary software developer of gambling group "Betsson AB", announced today they've released what they are calling the first "Live, real money, roulette gambling application". Players located only in Sweden at this point may play real money roulette through their Apple TV. Placing bets are accomplished via a touch sensitive remote accessed via a companion iPhone application.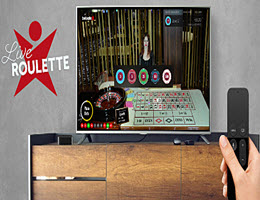 One interesting aspect of this application that has yet to bee seen in any other platform is that players who have friends with an iPhone can have they play live roulette simultaneously. This is accomplished by inviting up to five friends to come over & play roulette. All players sync their phones to the Apple TV, upon which new table game boards are displayed on the television. Essentially this app allows for you to have a casino roulette experience in the comfort of your lounge. Betsson has made claim to what could become a new subsidiary online market for gamblers.
At this particular time, this application is only available on the Swedish based Apple store, Betsson CEO Ulrik Bengtsson has said openly that this new form of gambling will be making its roll out to new markets in the future, currently, it depends on permission from local authorities as well as Apple. Bengtsson is taking a huge risk with this new app, going as far as to make the claim that this application will "Most likely set the standard for the entire gambling industry coming forward". Polls from industry analysts have shown that this statement might be more drawn out then needed and that even though this app proves to be revolutionary, it won't take over the market anytime soon.
Swedish gamblers can now check out this application on their Apple Store. Bear in mind that to play any roulette games listed on this app, a player account will need to be provided to the casino. Revolutionary experiences await whoever does create that player account, though.