As we all know, there are millions of apps or there, which includes the old, the new, and the ones that were just forgotten. Apple users like keeping track of what's new out there and get the latest additions for their devices, which is why we don't only look for the most recent apps, but we also search deep and find the best ones, no matter how old they are. With that said, we won't bring you outdated apps either, but those that are the best the world has to offer.
Let's dive right in and see what our team has found for the month of July 2016. These apps are not arraigned in any way, and are mostly random, but who knows, you might just find something that appeals to you, we certainly have.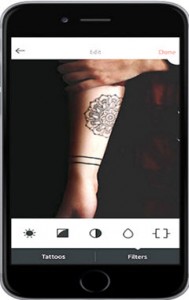 Ink Hunter
Ink Hunter is the perfect all for anyone who like a tattoo or those of you who might be an artist. The app is free and provides you with the ability to see what a tattoo would look like on your body. It requires users to draw a smiley face like imagine where they would like the tattoo, then select a tattoo you find interesting and simply point your camera at your arm. The app will automatically overlay the tattoo on the position of the "smiley face", giving users a comprehensive perspective of what the actual tattoo would look like. We sound this to be an exciting addition to the Apple Store and could be quite fun when showing off your new "fake" tattoo or planning your next.
WordFlow
WordFlow is a new addition to the app market for iPhone users and has managed to impress us from the moment we first opened it. I've sure many have heard around swipe typing, which allows you to swipe across buttons while typing, instead of tapping each button. WordFlow has taken it a step further and created a single hand keyboard with swipe type. This means you no longer need to use 2 hands to type fast, especially when using a bigger device like the iPhone 6S Plus. It comes with various themes and options that allow even more functions and usability. The app was created by Microsoft for all iPhone users and is 100% free.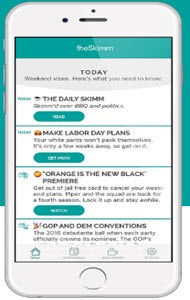 The Skimm
The Skimm is a news app that takes the world of information to a whole new level. This app doesn't only feature the latest international news, but it also keeps you up to date on the sport you might be interested in. For example, the app can remind you when the next major Baseball game is coming or when tickets for a show you might be interested in will become available, making it a great addition to your world. It comes with a trial version, which is replaced by a monthly fee of $3, which isn't cheap for an app, but if you always seem to forget the latest games and shows, it might just be exactly what you need.
OUTDODGE
OUTDODGE is one of the newest games added to the market, which is one of those addictive games you simply can't get enough of. It's a very easy to play the game, and definitely has its challenges to players. Players are represented by a bat, and different balls come flying and bouncing towards you. You can either hit them or jump to avoid them as being touched by these balls without hitting them will result in the bat being damaged. The longer you stay alive, the harder it gets, making it the perfect arcade game to enjoy while waiting in line or just killing some time while waiting for friends.
With so many apps out there, it's impossible to keep up with all the latest offers, which is why we choose to find the best we can and bringing them straight to you. These 3 apps above is highly recommended and well worth a try as we rush off to find the best new apps for the month of August.