Tapping arcade games have become pretty popular within the iOS gaming community, especially ones where you fire missiles at asteroids to save a space station or planet. Eve Of Impact, by Rik Schennink is another game you can add to that list of tap firing action filled high-score chasing titles.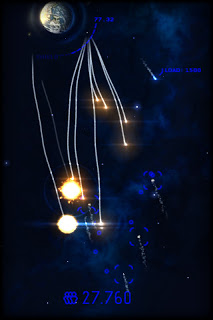 In Eve Of Impact, the goal of the game is to hold off the bombardment of asteroids so that as many people as possible can escape Earth, and survive. Your score is dependant on how many survivors there are, and your survivors score goes up faster the less missiles you use. You do have an unlimited number of missiles, so you can hit the asteroids with a barrage of missiles, but doing so will slow down your score. The way to score big is to figure out exactly when and where to tap depending on the incoming asteroids.
You are given warnings on the sides of the screen, with a quickly decreasing number letting you know how close the asteroid is to Earth. You are also able to scroll around space by dragging on the screen, but staying in one section of space for too long could mean that Earth is destroyed by asteroids coming at you from another direction. To save Earth, you need to send missiles out and have them explode next to the asteroids, having the shockwave push the asteroid in another direction, not to hit the asteroids head on with missiles. This adds quite a bit of strategy to the game, as groups of asteroids can usually be dealt with by using one or two missiles, so it's almost always a good idea to try and group the asteroids together. If you don't group them, you could end up making more work for yourself, sending an asteroid in one direction, and then back to it's original direction by trying to send another asteroid away. It's also easier to change the direction of a missile based on the angle that it's coming at you. If an asteroid is coming at you from the top right of the screen, sending it towards the bottom left of the screen will almost always be easier than trying to send it to the top left side. You can also hold down on Earth to send out a shockwave, destroying all asteroids close to you, but this takes up 30% of your slowly recharging planet's shield. All of this factors in to how you'll play and score in Eve Of Impact.
The graphics, animations, physics, and sounds all come together to create one hell of an immersive experience, especially for an arcade tapping game. The physics are top notch, and along with the simple controls, and beautiful graphics, you can really get sucked into the game. Then coupled with the animations for explosions, and trails, it all makes it a very smooth gameplay experience.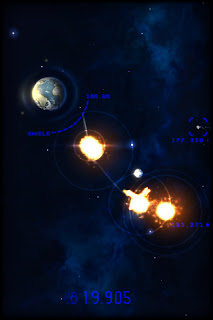 Rik Schennink has done an amazing job with his first iOS game. Eve Of Impact will give you hours and hours of strategic high-score chasing arcade gameplay. Right now, version 1.0 does not include GameCenter, so there's no leader boards or achievements at the moment, but they are said to be included in version 1.1, along with a color tweak and music/sound settings, so the future looks bright for Eve Of Impact. Once GameCenter is added, and players are no longer chasing only their own local high-scores, the replay value and desire to play the game will go up quite a bit, but as it is now, $0.99 is a great price for this wonderfully made title.
Eve Of Impact gets a score of 8 out of 10.