I've said before that the platformer genre is one of my very top favorites, so when I heard of Black Hive Media's Arcade Jumper, and saw a couple beta version screen shots, I was instantly intrigued. A "retro-inspired, endless, randomized side-scroller"? If done right, this could be one crazy great game. Considering the dev team is a husband and wife duo with a combined 10 years of experience, and numerous iOS releases under their belt, it was hard not to get excited. So after about 4 months of waiting for the game, it was finally released on September 26th.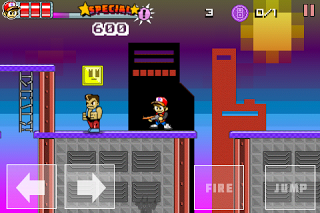 In the game, you'll start off playing as Eddy, and be able to unlock 3 additional characters with tickets that you'll earn in-game. Now, the game is randomized, but only to an extent. You'll go through Zones made up on 3 levels, and each Zone has it's own theme. Zone 1 is Noob Hill Zone, and is a nice introduction. There are no real hazards here, a couple moving platforms, it's really an intro zone. Zone 2 is called The Tilts, and here all of the platforms move like seesaws, either automatically, or with your character's weight, and the rest of the game follows this type of set-up. But within each of the Zones, you never know what type of level you'll encounter, though there are 3 general types, a Space Invaders theme, a Mario mixed with Sonic type theme, and a City-scape, kind of like Double Dragon type theme. It is also only endless in the sense that you can never replay the same game twice, but there are only 10 zones.
You'll start off running through the level, jumping from platform to platform, either jumping on or shooting enemies, and head-butting blocks, a-la Mario, until you get all the way to the right side of the level. Here, you'll need to collect the token floating in the air, which opens up the warp machine, which is back at the beginning of the level, so you'll make your way back to the beginning, going left. The enemies re-spawn, so you can't just do a speed run back to the beginning, but once you know where they all are, it takes about half the time to reach the warp machine, which, go figure, is an arcade machine. As you progress through the game, each zone requires that you collect more tokens, so sometimes you'll go all the way to the right of a level, collect the token, and then come back to the middle, and collect a token there, and then go back to the right, collecting another token, before you head back to the warping arcade machine. There is a pretty good variety of enemies, each zone introducing new ones, as well as mixing in enemies you've already encountered. In each level, you're aloud to take 3 hits, but loose those, or fall off of a platform, and it's game over, and you'll need to start from scratch. You can, however, earn a continue every 25,000 points.
There are also 3 mini-games, a Plinko like game where you'll drop balls and have them bounce off of pegs, trying to get them into the highest point slot at the bottom, a Skee-ball type game, and yes, a Wack-A-Mole game. All of these will help you earn tokens which you can use to buy the 3 unlockable characters, along with other items. In the shop, you can buy a different controller set-up, a permanent space ship that will rotate around your character, and help you take care of enemies, and a pinball flipper that will bounce you back up onto a platform if you fall off. You are able to purchase 2500 tickets for $0.99 via IAP, but you can, of course, take your time and earn the tickets in-game, so it's not necessary.
I did run across some bugs and weird issues while I was playing, for instance, if you're running, and run against a platform that came down to squish you, while you are waiting for it to rise up again, the screen will keep going right, like your character was still in the middle of the screen, leaving you all the way on the left side of the screen, and then disappearing, until the game over screen pops up. Also, when a platform is seesawing, the coins, tokens, fruits and enemies that are on that platform are not stationary, and are left to fall off of these moving platforms. There were some instances where I would shoot at an enemy, and my shot would go right through it, or I would accidentally run into an enemy, and he would crawl up and around my character without harming him. Lastly, there are some weird collision detection issues with the platforms, enemies, and especially the boxes you'll need to head-butt. The boxes do not let you jump through them while you're right under them, but if you go at them from an angle, you will be able to jump right through them. These issues, all but the collision detection and objects on seesawing platforms, are rare, and I only encountered once or twice. But they are still present, though nothing that can't be fixed with a quick update, and I'm not even sure the free moving objects on seesaws is an issue, might just be something I consider a little weird.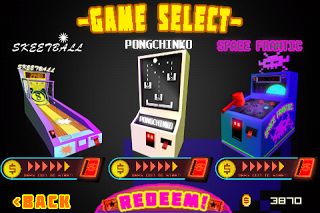 Still, Arcade Jumper is a nice randomized plat former that does present quite the challenge, and does have decent controls, physics, graphics, and gameplay. For $1.99, and the game being Universal and supported by iCade, if you're a plat former fan, as well as an old-school arcade buff, you should enjoy what Black Hive Media has produced here. There's also GameCenter leader boards for highest score, furthest zone reached, and all of the mini-games. There are also 20 achievements, but an update is needed in order for them to work, right now none of them are unlocking. If you are bugged by issues, and are looking for a highly polished and top notch platformer, you might want to wait and come back to Arcade Jumper after it's had an update or two.
Arcade Jumper gets a score of 6 out of 10.
Links;
Version Reviewed; V1.0
Reviewed on; 4th GEN iPod Touch – iOS 4.3.3