Super Meat Boy is one of my favorite platformers of all time, so with the clones hitting the AppStore lately, you'd think I'd be a pretty happy camper. But not really. For the most part, there's filled with horrible controls and floaty physics. But when I first saw ChocoRun, I couldn't help but get excited. The original build of the game was awesome, and the one touch control to jump worked perfectly. Now, ChocoRun has been totally re-vamped in a new graphical style, has more levels, and an added Easy Mode, as well as unlockable characters. So what better time to review it then now?
This platformer from Alejandro Jimenez Vilarroya hit the AppStore about two months ago, and proved that it was the SMB clone for the iOS that everyone needed to get. Top notch level design, along with great physics, easy, but precise one touch charge and jump controls, and clean graphics helped spur an instant fan following. Over the last two months Alejandro teamed up with a new graphics designer, and the flashy new update has hit iOS devices around the world, and the graphics in the updated version of ChocoRun are awesome. There has been increased detail in the objects and platforms that were already in the game, and the backgrounds were completely enhanced to fit the new graphical style. Also, being retina supported and Universal gives us the opportunity to see all these graphical updates in HD, the way they were meant to be seen. The animations are outstanding, each and every razor blade looks amazing while it's spinning or flying through the air right at your cute little head. Choco now spins while jumping in the air as well, which also adds to the great look and feel of the game.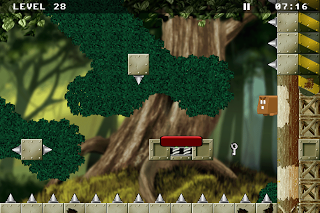 The controls work like they always did, press anywhere on the screen to charge your jump, and let go to perform the jump, hold on the screen while in the air, and let go when you touch a wall in order to wall jump, but now we've been given a charge meter that circles Choco while you're pressing on the screen, letting you know how high and far he'll go when you let go. This addition helps immensely with being able to pull off those tougher jumps and more tricky areas. The game is still just as frustrating as it ever was though. The death counter at the main menu keeps track of how many times you've died while playing the game. Right now, my counter is at 3,342, so you can expect to see your character explode from hitting spikes or razor blades quite a bit. But with unlimited lives, you can also expect to always want to play just one more life, and then realize that an hour has passed.
Level designs in the new update are just as great as the previous build's levels, maybe even better, and more thought out. It's very clear that loads of beta testing has gone on, and that each level was tweaked and edited to make them all just right. The game now has 50 great levels, which will keep you busy for weeks. Another great addition to the update is the new Easy Mode. Choco is given 3 lives to waste in each level before re-starting here, along with a cute little pink bow. If you're having a hard time unlocking the next set of levels, Easy Mode is always there to help out.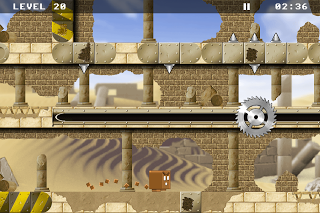 So, with all this said, ChocoRun is definitely one of my favorite iOS platformers, and very easily the best Super Meat Boy clone in the AppStore. With The original SMB developers saying that they wouldn't port SMB to the iOS device because the virtual controls wouldn't work, Alejandro Vilarroya has given us a Super Meat Boy clone, not with virtual controls, but with controls that work extremely well on a touch screen. It's highly recommended to all platformer fans, as well as fans of very frustrating and difficult games. This one will keep you glued to your iPod screen, as well as screaming and banging your head against the wall. For $0.99, it's a great deal.
I'm giving ChocoRun a score of 5 out of 5, with a strong recommendation that everyone gets it.