Casual games with a story don't really come around too often, and casual games with a long, deep, and well thought out story are pretty much non-existent. This is where Parogames Limited breaks the mold with their recently released title, Parodise. In this action/defense swiping game, you'll learn about Parodise, your main character, Dumy-667, his supposed partner, Dumy-666, as well as his… boss, Yody, GOD, and Doomy.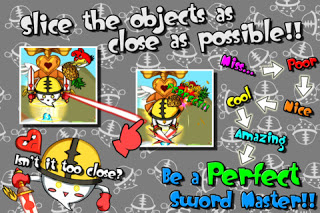 To get through each day in Parodise, you'll need to defend yourself against Doomy, a Dumy who has changed due to an insane amount of bottled up negative emotions, who will constantly be throwing objects at you. To do this, you'll need to swipe on either the left, right, or both sides of Dumy-667, slicing each of these objects in two with your swords, but waiting until they get as close to your body as you can. Each object you successfully slice will add to your Soul Absorber, which, when full, will let you perform a super slash move that slices all the objects on the screen. Each time you get hit, you'll loose one of two flames burning on the Holy Fire Defense System. Loose both flames and get hit again, and you'll have to replay the level, but if you loose a flame, then slice an object, adding to your Soul Absorber, it will re-light the flame. Starting to sound confusing? Just wait until you really get into the story. Along with the Story Mode, there's also a DOJO Mode, Hardcore Mode, Master Mode, and Panties Mode, each of which is unlocked by completing certain objectives in the previous Mode, thought these can be pretty challenging, and time consuming to unlock, once you do, it adds endless replayabilty to the game.
The graphics in Parodise are done in a nice and polished cartoony theme, with pretty interesting environments. The animations for all of the objects are done very well, adding loads of personality to the game, and everything in it. The music and effects give the game that real casual type feeling, and placed on top of the action filled gameplay actually fits perfectly with the game. This casual game with a deep, humorous, and profound story.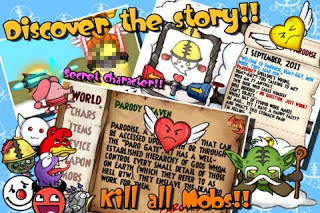 GameCenter is supported, with 63 achievements, and 4 leader boards, one for each of the unlockable Modes. There's not a whole lot of replay value in the Story Mode, but with 4 endless Modes, there's plenty to replay. Parodise is $1.99, and Universal, and right now is on sale for $0.99. This has quickly become one of my personal favorite casual games, and is so easy to recommend to everyone, hardcore gamers to casual gamers, this game will satisfy you in ways you never thought a casual game could. It's addictive, funny, serious, challenging, and after the first couple days and little bit of story, you'll start feeling for Dumy-667, feeling bad for him, rooting for him, and wondering what the hell is going on, all at the same time. This is one game no one should miss out on. Parogames has shown us with their first iOS release, that they are in this for the long haul, and are willing to put more work into their game than almost every other casual game developer.
Parodise gets a score of 9 out of 10.

Version Reviewed; V 1.0
Reviewed On; 4th Generation iPod Touch – iOS 4.3.3