Online Multiplayer fans should be in heaven right now, especially when it comes to Asynchronous play. Last week, the releases of Outwitters and Summoner Wars (and Left2Die for the non-async MP gameplay), and now this week, with the release of Ayopa and F5's Pocket Heroes, an RPG title with Roguelike influenced gameplay has hit the virtual shelves, and servers are loaded!
Starting it up, I was pretty surprised to see that Pocket Heroes has no single player campaign. Not that I was expecting it, but I've never had the privilege of playing an Asynchronous MP only RPG title, but with the versatility of the iDevice, it's no surprise that we're seeing more and more of these MP-async titles popping up.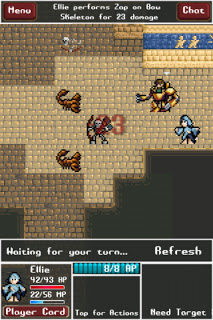 You're able to start a game with up to 3 other players through either your GameCenter friend's list, or through e-mail. With 4 different classes to choose from, you're able to put together quite a team. Once you actually start the game, your first quest is a fairly simple one, and acts more like a tutorial phase. You'll learn how to target enemies, how to move, where you can move to, and how the upgrade system works.
Upgrading is done automatically, your stats increase with each level you gain, but you're able to work your way down through the skill tree, getting a skill point which you can spend on an extra ability every other level upgrade. As you take out enemies, they'll drop loot; coins and items. You are able to pick up items which you can't equip, and drop them around your friends, so item hunting usually benefits all players involved. After each quest, of which there are 10 in each game, you'll meet at a tavern. Here, you're able to purchase items from the shop with the coins you've collected, and get ready for your next quest.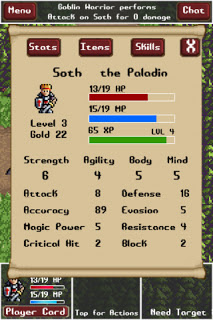 If you aren't lucky enough to have any friends who own the game, and can't strategize before-hand, there is a chat area at the top of the screen which lets you co-ordinate attacks, and let the other players know what you're doing, or what you hope they'll do. This is also really nice for letting other gamers know if you'll be gone for a while, or when you'll be back. It's really a nice little addition. 
Right now, as with most MP games that hit the stores, there are quite a few issues and bugs that couldn't have been found during the beta testing. Some issues that I've run into; When I first started the app, I registered my name as 'Syntheticvoid' and couldn't connect to the server. Thankfully, the developers at F5 were kind enough to help me out, look through their server log, and see that I had a capital letter in my name. Turns out I needed to register with 'syntheticvoid' in order to connect to the servers. Right now, there's no random match-making, which could be a real deal-breaker for quite a few gamers. Denying and deleting games is not an option, so you have the potential to wind up with loads of unfinished, or un-joined games in your game log. There's also no randomized quests. Even though the level generation is randomized, the 10 quests that you'll go on in each game will always be the same.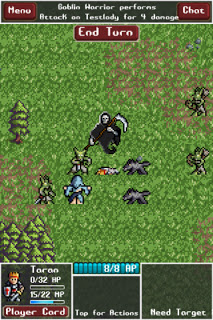 With F5 being great right now at working with players and trying to make Pocket Heroes the best Async-MP RPG title it can be, and Ayopa being the publisher, with every single game under their belt having been updated quickly, and consistently, I have complete faith that Pocket Heroes will reach it's true potential soon enough. Priced at $0.99, it's easy to take the plunge, and experience gameplay that's reminiscent of a Dungeon's & Dragons session with friends. But if you're hoping this is a full-fledged Action or Turn-Based RPG with hundreds of quests to do online, you'll be pretty upset with the game. There are plenty of other titles that let you join in a world that's pre-constructed and always alive. But if you're looking for a close game with friends, Pocket Heroes is just the game you're looking for, and it can only get better over time.