Climber Brothers is a new adventure game from Esquilax Games. You play as brothersGreg and Jeff, who are searching for a hidden fortune in the castle of Screamville. Being retired, and out of shape, they need your help to find it. Climber Brothers has 63 levels spanning through 3 different mountains. Each mountian having its own hazards and challenges. The goal of each level is to collect 2 coins, 1 diamond, and get both brothers to the ledge with the tent without dying. Scoring is pretty basic; You get 1000 points for each coin that you collect, 2000 points for getting the diamond, a time bonus, 500 points for each brother you get onto the ledge with the tent, and 1000 points for having both brothers land on the final ledge at the same time. There are 4 GameCenter leaderboards; one for each mountain, and one for the combined score of all the levels. There's also 12 achievements you can try and get if you're up for the challenge. It's also a Universal build!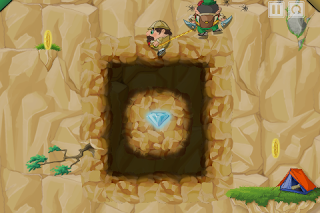 The controls in Climber Brothers are simple enough, tap and hold on the right side to make Jeff hook and hold onto the side of the mountain, and tap and hold on the left side of the screen to make Greg hook and hold onto the side of the mountain. The brothers are connected with a rope, and swing back and forth until you hook them into the mountain. You can hold on both sides of the screen to hook both of them at the same time. There's some pretty funky obstacles throughout the levels, like clouds that you can hook on to that carry you to other parts of the level, fog that eats you, ice blowers that turn you into an ice cube and snowballs that fall down at you from the top of the screen. Making your way through the obstacles is another addition to the challenge, and a very tough one at that. Having to try a level more than a couple times is not a rarity while playing Climber Brothers, and that kind of challenge sits pretty well with me.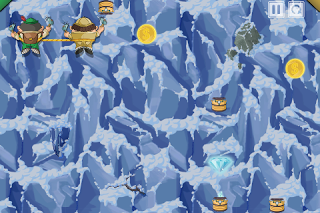 The graphics are very polished, which was surprising coming a developing studio who's previous games were card, and tic-tac-toe games. The gameplay is also very smooth, and entertaining. Esquilax Games has shown that they're ready to give gamers high quality games, and better yet, at the AppStore selling price. $0.99 will get you a good amount of gameplay, and if you're up for a challenge, look no further, because Climber Brothers will give it to you. It really is an awesome first real game by Esquilax, and I'm very excited to see what they're going to bring us in the future. I'm giving Climber Brothers a 4.5 out of 5.