The way the economy seems to keep changing and new opportunities around each corner, you might find it beneficial to have a job searching app on your mobile device that can do it all. No more searching through classified and useless websites. Instead, use the "Indeed" mobile app that provides job opportunities no matter where you are in the world. The app is easy to use, quick, and very accurate with search results.
The app provides an amazing search filter that can provide results according to the region of your interest, but locally and international, type of work, salary, full time, part time and much more. All these filters can be saved as well, meaning you are not required to fill in the same info over and over to look for new opportunities.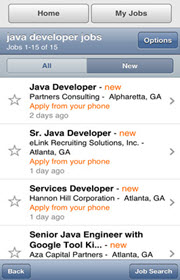 Uploading your resume is easy can also be done with the app by writing in all your information. This allows employers to see your info as well, which could result in you not looking for other work, but instead other work finding you. The app comes with an easy to use interface for both smartphones and tablets using Android software.
Users can choose where int eh world their resumes are available, meaning finding work in another country becomes very easy and provides detailed information for both the employer and employee to view before accepting an interview.
Making quick changes to your resume or personal information is also only 1 click away. The developers of Indeed has ensured an easy, yet effective way to find your dream job.
The app doesn't use much data at all and virtually uses almost no space on your device. Your account and all information is saved to the server, which allows you to keep browsing and for others to keep seeing your resume even when you buy a new device or lose yours.
To send your resume to a company, simply chick and hit apply. This will provide the employer with all the details you've made available to view as well as a detailed copy of your resume.