iScanner is an app available for both iPhone and iPad. Users will be able to use the app to scan documents and save them as PDF. These can be edited, emailed, or saved for future reference or use later.
The app comes at a low price of $3.99, but a free version is available. The free version has most of the features of the main one, but can't save as many files and has ads, making it a good trail to try out.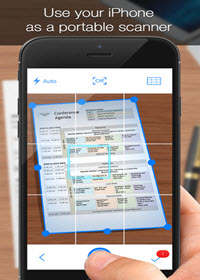 The app is very easy to use for scanning documents. Simply enter the app, hit scan and hold your device over the document as if you were about to take a photo of it. Press the scan button and watch the app do its magic by first taking a standard picture. It will then brighten the image and increase contrast, making it look just like a document scanned with a scanner.
The app can also provide a scan when taken at an angle. Once again enter the app and press scan. Ensure the entire document is in the photo to get the best results. After the picture has been taken, the app will offer an additional feature where the text can be dragged to fit on the screen before the scan colour is applied.
Users have the options to adjust the brightness, colour and contrast of the document for best results. This ensures the information can be seen perfectly, just like it would with a real scan. Multiple sharing options are available from the app that allows you to send it via email, social media, other communication apps or save the file to another app on the device.
One of the most impressive features of the app is that documents can be edited. This means users can write on the app to apply a signature or highlight parts of the information. All of these features and much more can be to documents received from others, giving you full control, no matter where you are or what needs to be done with these files, iScanner will be able to offer all the right options, among much more.