Unlike new games, productivity, social media, photo, camera, and audiophile apps the newest and latest is in this specific set of circumstances 99% of the time not the greatest solution in guarding your deepest darkest financial and selfie secrets on your latest darling new smart device's data files and operating system. As has become abundantly apparent with a slew of unwilling and unknown celebrity revelations in the recent past, smart device security needs to be made rock-solid by tried and proven methods from development companies beyond reproach in the quality of their product. The below security apps are shining examples of rock-solid security defences in the online mobile world and would be one of the most worthwhile contributions to download and install on any smart online device.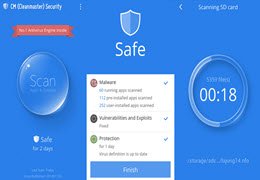 CM Security from developers Cheetah Mobile delivers an award-winning option in online security that delivers the best in available malware protection to any Android device. Cheetah Mobile is a security research company well-known for its compilation of credible security reports on the latest state of any Android security issues and all scam related breaches, it has delivered one of the most comprehensive and fastest dedicated apps on the market to date.
360 Security provides users with a long-standing and highly popular antivirus app for Android devices that will deliver all the bells and whistles any user may wish for to protect their phones. As has become the norm first and foremost it has an extremely powerful antivirus engine that features the ability to scan the complete device automatically along with updating security and antivirus definitions automatically. Any new installation immaterial of where a user may downloaded from will pass through its comprehensive real-time protection scan before the app becomes active on any phone. As an added boon it even has a brilliant system cleaner that clears it all those old junk files that pile up to make a phone slower.
Malwarebytes Anti-Malware delivers one of the best privacy managers imaginable from a company that built its well-deserved reputation for providing one of the most unintrusive and lightweight PC protection toolsets available anywhere. It's totally free of charge Android app similarly trades off tons of features for a much more pertinent focus on user-friendliness. Aside from its top-class anti-malware protection delivers one of the best privacy managers that not only scans for malware and antivirus but will also monitor and scan apps that behave suspiciously.