Global crowdfunding platform Kickstarter, recently finally got around to fielding an Android app for its website, this belated offering arrives three years since its iOS-based cousin. The company provided no clarity as to the reason for the massive delay, but Android platformed crowdfunding investors must certainly be quite pleased to finally be able to interact and explore the site from their mobile devices.
This first release of their app is currently still quite basic when compared to its iPhone peer, offering potential funders not much functionality other than a search function and the ability to track projects they have already backed. Android-based creators at this stage would still choose to abstain from utilising this app since there is not much on offer for them, at the moment it offers no function to add new content or the ability to update their project pages.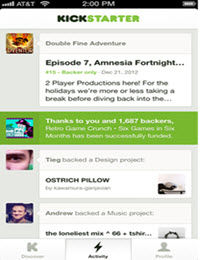 According to a post by Kickstarter's team in Brooklyn wearing they introduced their app, the team revealed that this is only version 1.0. The further requested that their Android based fans must stay tuned to expect additional features, such as tools allowing its innovative creators to more fully manage their personal projects.
The company further explained that the just released version is only an initial take on a platform that they wish to utilise to create fantastic experience of discovery to all backers and potential backers. The final goal is to make it for easier to go diving into its thousands of creative live projects loaded from all four corners of Kickstarter's universe.
Currently Project searches offers option of search refinement via categories, which makes it for easier to find the type of campaigns that interest backers the most. The application's activity feed allows backers a tracking option that deliver the latest updates from project creators that they have supported, and in addition highlights campaigns to recently backed partners.
The Kickstarter team described their feed as a moment-by-moment play of all the latest news but should potentially be on any backer's radar on any day at any given moment.