The record-setting card game Exploding Kittens quickly became the most backed new game in the history of the crowd funded Kickstarter, and now just one day since its launch in the iStore it made a name for itself once again as the top paid application in Apple's App Store. This latest achievement racked up another important milestone in the game's already impressive trophy room that already contains markers for collecting the single greatest number of backers in any campaign.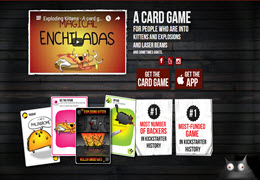 At the moment mobile gamers are virtually falling over themselves to download the game to their mobile devices, a simple matter of all in app purchases being available for free during the next couple of days may be partly responsible for the early rush, the app is available at a cost of $1.99. As an added incentive, mobile versions feature an NSFW decks that are not available in the standard game and in app purchases already makes a party-pack expansion deck available together with a ton of sexy avatars.
It delivers a purely local multiplayer experience that allows 2 to 5 gamers to connect across their mobile devices via Bluetooth or Wi-Fi. It excludes any on-device single player mode, and no multiplayer online offering. Exploding Kittens is the brainchild and creation of Matthew Inman founder of The Oatmeal, along with Shane Small and Elan Lee and is a gamified version of Russian roulette.
Exploding Kittens dares players to, initially quite eager that quickly changes to apprehensively, draw cards from its delightfully comical deck of cards, while attempting to avoid the game-busting, life ending Exploding Kitten card. Since if you drew that card will have guts splattered all over the insides of your phone since it causes your character to explode which forces you out of the game. Unless, you are at the time in possession of one of the Defuse cards that allows you to return your life ending Exploding Kitten card to the Master card deck.
Developers made a plea urging players to remain patient if at first they find the app a little buggy; they would appreciate any feedback on system bugs, and attend to whatever reports they receive. In addition, Android users can rejoice, since the makers have reported that their route is an app in the pipeline for this platform!