With the ever-increasing flood of new games through the gates of the two main app stores i.e. Google and Apple discerning noteworthy titles becomes an increasingly difficult task, however certain game series have a knack for bringing out the best in a mobile device game. The below list rotates around a number of these titles that seem to improve with every new version and some titles are even totally to the market.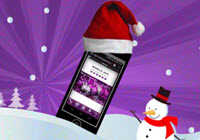 Crimbo offers a bit of a strange Christmassy look on Limbo, and Limbo for those not in the know is one of Playdead's renowned 2010 puzzlers, known for its dark mood and a silhouetted visual artistry. Then in a sudden flash of inspiration, the developer, Digi Chain Games, realised before anyone else did that Limbo was missing a Santa Claus. Fortunately they immediately set about rectifying the situation in the currently under development Crimbo that has the benefit of the same silhouetted style. This combined with a load of deadly traps hidden in the surroundings, ready to get the jump on dear little Santa with in most cases zero warning.
Glass Road from Uwe Rosenberg will serve up a Board Game Deluge and it promises to be in the App Store quite soon. So far November delivered one crazy month to board game enthusiasts, with the arrival of Steam: Rails to Riches, Steam, Le Havre: The Inland Port, and according to latest reports you might even get lucky with Glass Road from Uwe Rosenberg. For those inexperienced in Glass Road play, it is a tile placement and resource management game to keep from one to four players busy in a glass making Bavarian forest of olden times. Players will need to run their glass and brick works simultaneously while they chop down trees for fuel to keep the fires going etc. Fifteen specialists in glass production will assist players and the cycle repeats to keep the money flowing into their coffers while growing and maintaining a balancing act between the resources.