The one comment one continually hears from smart phone users is that the sheer number of available applications featured on Google's play store makes it an absolutely daunting task to firstly search for, and secondly review other users comments and editor ratings before downloading and installing the app to your phone. Then to find out that despite the fact that it might be a brilliant app, it still does not fulfill all the essential requirements that you may have, then to uninstall, return and repeat the process, perhaps even a couple of times before finally settling on the one that ticks all the correct boxes. The apps discussed and recommended below hopefully should make life a bit easier in that regard, since both represent the best of their kind with a multitude of features and customizable adjustments that can be set to suit your specific needs.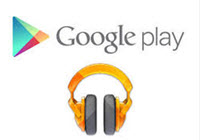 The best Android app that brings to the fore the importance of a good keyboard app must certainly be the good old standby Swift Key, well there is none other just as great and as helpful and perhaps better in some aspects and the newcomers name to join the style what at the top of the best of its kind is Fleksy keyboard. This must be one of the fastest and most accurate typing tools and certainly has become the new favourite of anyone that has tried it. Most users adopt Fleksy to replace all others after just a couple of hours of trying it out, and is fast because it offers large keys, it is clever and after a short period of time users realize the incredible usefulness of some of its smaller details.
Google Play Music has quickly become the favourite app of many users to download free music right at the moment. This is quite a bold statement since there are a multitude of excellent music downloader apps available, the biggest problem with most of these apps are that they are there today and gone tomorrow, this is due to the fact that most of them impinge copyright laws. In contrast Google Play Music offers users a fully legitimate list of ever-changing tunes downloadable for free from all major artists, what can be better than that!