It is late September 2015 and the below games urgently beg to be played starting before the end of the month and will carry through the next slew of brilliant new game releases are made in October, the current crop features a brilliant new dungeon crawler and a fast action zombie shooter.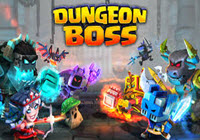 Dungeon Boss offers a fierce playing dungeon crawler with battles taking place in a sequential fashion, where players are required to fight their way through the usual cannon fodder consisting of lesser foes only to meet the near insurmountable level boss at the end of each stage of the dungeon. Players will need to defeat this level-end beast to receive treasure trove of gems and gold which they can trade for various upgrades and improved items. Visuals offer an artfully done blocky style 3D graphics with relatively cutesy gameplay environments, however this be not as the more advanced dungeon levels later in the game can get difficult in the most extreme ways. The fast gameplay and excellent graphics will require pretty decent mobile devices to enable smooth play.
Unkilled is a new development from Madfinger Games, they are folks that created FPS hits Dead Trigger 1 & 2. It is a brand-new zombie FPS game offering a completely different style of gameplay, where players may now feel free to blast their way throughout New York City's streets at the onset of a new zombie apocalypse. Controls offer the use of the screen left side to move around and for aiming the right site is offered for your other thumb. A fire button is lacking, because whichever weapon the player is equipped with will fire automatically as soon as a zombie that requires utter and total destruction enters their sights. The game controls, cross feeling exceedingly smooth but providing an excellent platform from which to follow its cheesy storyline that offers so much fun in blasting your way through a horde of undead, weaponry include rockets as well as bullet-time tracing buffs. Techno buffs that require the latest in current tech capability must certainly give this game a good try-out.