As soon as cell phone users hear the word Satnav over 90% will automatically assume, or think of, or picture Google Maps because the most downloaded most widely used GPS map app of all time. Any savvy iOS user immediately replaces the proprietary iOS Navigator with the free Google Maps app as soon as his new device is first switched on. However there are people that prefer not use Google Maps for a number of reasons, they simply don't like the look or layout, or they have become used to a specific type of interface.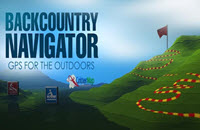 There are several excellent alternative apps that will fulfil this function admirably, the first of which is BackCountry Navigator GPS Pro, which is a paid version but definitely worth the money. Excellent for day-to-day use while driving finding your way around town but if you're a hiker or a camper it is a definite for you to look at. It offers full hi raise off-line topographical maps which makes it brilliant for campers since it does not restrict you to areas with cell phone coverage like Google Maps would. It offers handy features such as the ability to pre-mark waypoints along their route.
CoPilot GPS offers a fully voice guided navigation on a turn by turn basis, available in most countries globally. The features include 3D map displays that offer small but important little features such as driver lane indicators. It is available as a free trial version for a week after which a licence must be purchased, one small downside for users outside the US and Europe maps might not be as fully updated as those of Google.
GPS Essentials has been accused of an antiquated user interface however it works accurately every time which is what Satnavs are all about. This app will suit those users with a statistical bent since it offers a dashboard allowing the user to monitor a massive variety of statistics such as direction of travel, altitude above sea level, average speed travelled, moon phases, and ETA. Meant for the gadgeteer's, but also very practical is its ability to offer a HUD that displays pre-programmed waypoints.