IPhone's standard GPS app made after its introduction short work of nearly annihilating the purchase of personal navigation devices, and while still available their market has shrunk, forcing entrepreneurial manufacturers to shift the focus in creating better apps to be deployed on cellular devices. Many casual users are content with the standard iOS GPS navigation system which works well, but can be a little bare bones and short on value adding useful features that would ease the lives of regular travelers.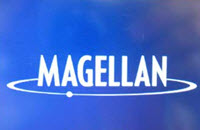 Smart phone users in general would expect their phones to come preloaded with virtual navigators offering turn by turn directions from companies that supply freeware apps with currently the most popular being Google maps. However there are also quite a number of premium solutions currently available for iPhones that also offer regular, free map updates, lane assistance, live traffic updates, delivered with clear concise and timeous voice instructions. Additional features would address safety, local information, route planning, and favourite waypoints as well as off-line maps.
Users would do well to consider a top end product such as Magellan RoadMate, able to offer 3D buildings, text to speech, lane assistance, as well as a very handy in app music volume control. Users receive updates in on speed camera locations, red light alerts assisting them in avoiding unnecessary traffic violations and its resulting fines. It also offers multiple voice choices, life long map and traffic updates, as well as a data base offering local search features.
A highly viable alternative would be TomTom for iPhones it offers loads of potential and the company has gone not just the extra mile but several extra miles to make its own brilliant and inexpensive technology available on iOS. Users receive TomTom's own downloadable offline maps, together with lifetime free map updates that would perform essential updates for changes to daily maps, multi-stop routing, IQ routes, selectable 2D/3D screen views, as well as lane guidance, with yet many more features available in the standard in the standard app.
As would be expected from an always professional company such as Garmin USA despite the fact that the company's very first iPhone app encountered and showed a few shortcomings and was even removed from App Store until improvements were made. Garmin USA continue to and has already been improved throughout comprising many of its areas. This trustworthy companion offers its own Garmin based offline downloadable maps, featuring turn by turn voice prompted directions, a lane assist feature, 3D landmark viewing capability, as well as speed limit alert functions, and multiple stop route planning.