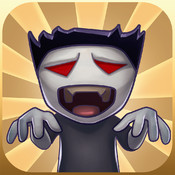 Lonely Few's first iOS release, Brainsss, has its fair share of issues when it was first released. We highlighted a couple of them in our review back in May; No zooming out and no specific grouping were among the biggest. However, the Lonely Few developers have been hard at work making Brainsss better since its initial release, and late last night, it hit the AppStore and we were able to check it out.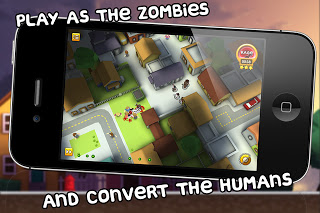 Take a look at this impressive list of new tweaks and features included in Version 1.5;
>20 Unlockable Heroes 
>Unique action RTS gameplay 
>2 game modes (Casual/Strategy) 
>Multiple Zoom levels though simple pinch interface 
>90+ achievements 
>iCloud Support 
>New iPad 3 retina GUI 
>Left Handed support 
>Top-down view mode available for the RTS players 
>Group Save and Recall via the new Grouping toolbar 
>Game Speed can be set to 3 settings (Slower, Normal and Faster) 
>Improved and more responsive controls 
>Optimized levels for dramatically faster loading 
>Brainsss Bucks now appear as random drops from humans 
>Extensive new help system 
>20 Unlockable Comics 
>Improved Zombie A.I. 
>Crazy Golf Carts!!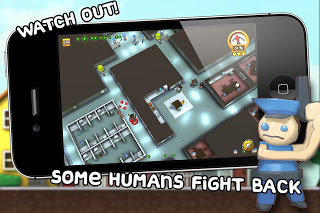 Yup, every issue we had with the game, along with some we didn't, have been tweaked, improved or added, greatly increasing both the playability and entertainment. Lonely Few has done a fantastic job making Brainsss one of the best Casual RTS titles available in the AppStore. If you'd like to know more, you can
check out our review
(though, you might want to keep in mind that it was written before Version 1.5), and check out the new Version 1.5 Trailer that was just posted up on YouTube. If you're either a hardcore RTS fan, or just new to the genre, Brainsss is definitely a title worth checking out, and with this recent update, it looks like Lonely Few is definitely a development group worth supporting.