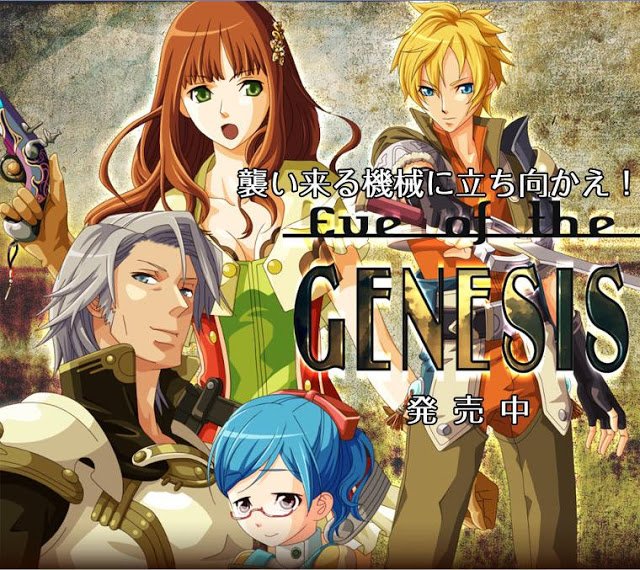 One of our favorite Turn-Based RPG developers, Kemco, is having another sale on one of their fantasticly crafted titles. This time around, it's the cyberpunk-fantasy Eve of the Genesis. The story takes place in the Empire of Gadalia. It's kind of a matrix type story, with humans battling machines that ruled the empire, but were defeated 2,000 years ago. Now they're back, and somehow able to travel through space, seemingly appearing anywhere they want to attack. Your characters are on a quest to try and find out how the machines are able to just appear anywhere they want, and eventually find a way to stop them from taking over the empire yet again.
If you're a fan of Kemco's titles, then you already know the quality of their games is fairly high. Eve of the Genesis is one of very few games here on The App Shack to earn a perfect 5 out of 5 stars. If you've never heard of Kemco, well… they're comparable to the Square (Enix) of old, with their titles bringing back memories of playing Final Fantasy titles 3 through 7. The writing is fantastic, and the translations are just shy of perfect. There's usually some pretty interesting equip or leveling up mechanics, and exploration for special items is something can be found in all of their titles.
So if you haven't picked up any of Kemco's titles yet, or have yet to pick up Eve of the Genesis because you've been busy playing one of their other great RPGs, now would be a great time to, with the price dropping from $8.99 down to $0.99. It's definitely a Turn Based RPG that will have you hooked until you complete it, and have you ready to jump into another fantastic Kemco title.