Tweet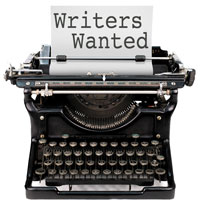 The site is currently running a two man shift which isn't hardly enough to keep you happy with all the latest in iOS news.  That is why we are now opening three new writer slots to anyone who wishes to apply.  Here are the benefits of working with us and what you would be doing.
FREE iOS games from all sorts of developers such as Crescent Moon Games, Telltale Media, and Ravenous Games.

No deadlines. If your schedule doesn't allow you to write something up then its no problem at all. We do ask that you post at a reasonable rate though. 

NO Experience required. All we ask is that you have a understanding of the English Language, Grammar and how to form complete sentences.

Cover what you want to. We don't force you to write anything about a certain subject. Got a game you want to review? Go for it!

We provide you with your own email address so that you can contact developers in a professional manner and ask if you can write a review of their game.
We need two game reviewers and one news reporter.  The game reviewers would obviously review new games and the news reporter would report on interesting tidbits in the iOS community.  News reports generally take less time than reviews so it would be perfect if you have a constantly busy schedule.
Contact me at TheAppShack@gmail.com and let me know if you are interested. Also please specify if you would like to be a reviewer or a news reporter.