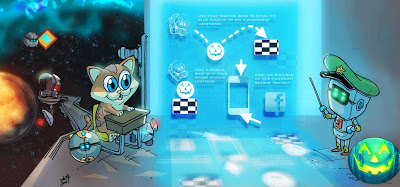 (Click to see full size image)
GravCat developer, Monster Robot Studios, is having a special Halloween competition in which you could win a $10 iTunes gift card! GravCat Version 1.1 will go live on October 31st, after that time, you can update, or buy the game (you could also follow us on Twitter for a chance to win a promo code for version 1.0, that we will be giving out before the 31st!), and have a go at it.
Here's the contest information;
In one of the 10 new levels there is a blue pumpkin, you need to find it, then use your tractor beam to place it on 3 different checkered locations scattered throughout the stage, taking a screen shot each time. the first person to post the 3 pictures wins!
The prize is a $10 itunes gift certificate!
You can get a hold of Monster Robot Studios through their Facebook or Twitter pages, so get ready to search the new levels, find the blue pumpkin, and place it on all 3 checkered locations to try and win a $10 iTunes gift card.