Platformers have been my favorite genre of games ever since I was 5 and introduced to the original Super Mario Brothers. That love affair carried on throughout the years with the rest of the Mario series, the Metroid series, Sonic, and really, too many more to name, but I can't tell you how many hours I put into Super Mario Land and Metroid II on my GameBoy. Until recently, I figured those types of memories were long gone, never to be relived again. Enter – the AppStore.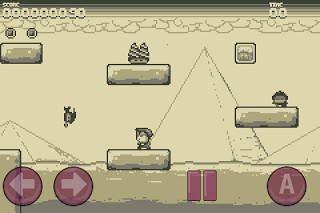 Retro styled plat formers on the iOS totally take me back to childhood gaming, spending hours upon hours of my life staring at a black and yellow screen. 1-Bit Ninja almost totally nailed it, but after about 4 hours, I found myself tired of it. Meganoid respawned something in me that had long been forgotten, and I really couldn't thank Orange Pixel enough, but now they've released Stardash, and I feel like I owe them even more. They have captured the look of old-school GameBoy games, and modernized it in just the perfect way. The difficulty level is also pretty high, though not as high as Meganoid, coupled with the graphics, it takes me back to a time before I was a pimply, full of rage, teenager, when life was good, and all that mattered was getting home from school and playing video games with my friends.
Stardash is an awesome plat former game, and will most likely end up in my top 3 favorites for the year, if not snagging the number 1 spot completely. The controls are great. Not perfect, like, say, League Of Evil, or Mos Speedrun, but they work very well. You don't need to pick up your finger to change direction, which is a big issue with some iOS platform games, as dragging your finger back and forth on the directional buttons is a huge part of platform gaming, and the jump button responds to how long you hold it down. You're also able to save your jump, and use it in the air, for instance; I'm running, and fall off of a cliff, barely missing the next platform, but op, it's okay because I can use my jump while in the air to make it onto that platform I would have otherwise missed. This is not to be confused with a double jump, because if you decide to jump off of a platform into the air, you can not jump again until you touch the ground. This approach to movement mechanics has helped Orange Pixel come up with some pretty sweet, and challenging, level designs.
Within each level, there is a hidden "temple key". Collecting these in each world's nine levels will open up a 10th, and extra challenging "temple" level. Each of these keys are hidden pretty well, usually in platforms that you would usually jump over or pass up. Yes, that's right, Stardash has the same kind of "hidden opening" sections that those who are familiar with Meganoid will be pretty familiar with. Along with the keys, there are two stars available for each level, one for getting all of the coins in the level, and another for getting to the end of the level before a timer runs out. You can take as long as you like getting through each level, but if you take longer than the timer, you will not get the "Dash" Star. To get these "Dash" Stars, you will need to find the best route through each of the levels, pretty much having a perfect run.
Getting the Dash Stars, and finding all of the hidden keys should prove to be quite the difficult task, but that's not the only challenging part of the game. As you progress, each level gets slightly harder than the last, usually taking more than a couple tries to make it through. You are given an unlimited number of lives, so you can die as much as your little heart desires. To top off the great graphics, and perfect difficulty level, the developers have thrown in an awesome Mario-esque soundtrack to make sure you're completely immersed in childhood memories.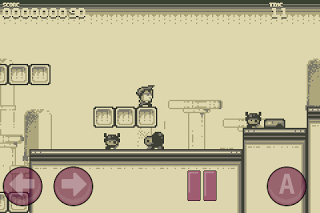 Orange Pixel has proven that they know exactly what it takes to make a top notch plat former with the release of Meganoid, but they have taken it a step further here, and proven that they know exactly what top not plat former fans need to feel challenged and comfortable all at the same time. GameCenter and OpenFeint are also supported, giving players a global leader board, and 13 pretty tough achievements to try and grab. There are a couple bugs and issues that you might encounter while playing, like issues with the iCade controls, menus not responding 100% all of the time, and leaving a level you've just reached while on the pause menu will re-lock that level, and some might find the game a little too difficult, but $1.99 for this Universal game is a great price considering you'll be buying back a piece of your childhood. If you aren't old enough to remember original GameBoy gaming, this would be the new title to grab if you're interested in wondering what made a lot of us fall in love with gaming. It is hard, and with 40 levels, each requiring multiple plays in order to 100% complete them, Stardash should keep you busy for a while. Hopefully, like Meganoid, it will get a couple updates adding even more levels and gameplay to the mix, but even if it doesn't, Stardash is a plat former all old-school, plat former, and challenging game fans should get as soon as possible.
Stardash is getting a score of 9 out of 10
Links;