With Apple bringing gamers a device that can utilize tilting controls, developers have pretty much been able to invent new genres of games based around that device function. Tilt To Live is one of these types of games, making gamers tilt their iPods to maneuver their triangle through dots/enemies on the screen, using power-ups to defeat them. Since then, there's been quite a few games that have built on this type of gameplay, and created a whole "Tilt To Live" genre of games for the iOS. The newest addition to the TTL genre is FlipShip, by ByteSize Games, which is their first iOS release. And what a great first release it is.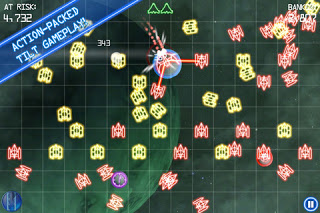 Expanding on the Tilt To Live idea, you'll maneuver one of three types of ships around your screen, dodging two different colors of enemy ships, shooting, and using power-ups to take as many of them out as you can. Here's the catch; to shoot an enemy, your ship must be the same color as that enemy, and to change colors, you simply tap the screen. Also, the longer you stay one color, the bigger your combo gets, and the more points you get per destroyed ship – but that combo score is banked, and only added to your total score once you change the color of your ship again. This can lead to the loss of millions of points if you're not careful, but also gives gamers a very nice risk/reward gameplay mechanic.
The controls for FlipShip are, like you'd hope for in a game like this, very nice and tight, making weaving in-between groups of enemies doable, if you're careful. One tap on the screen changes the color of your ship, and resets your combo score, saving the score you've built up, and tapping on the icon in the lower right corner (this can also be changed to go into the left corner) will activate your special ability, which is different with each ship. There are quite a few calibration options, but by default, the game will automatically calibrate at the beginning of every game, and every time you resume the game from the pause menu. You can also adjust the sensitivity of the vertical and horizontal tilting aspects.
The graphics are retro/vector styled, and really feel quite nice. There is more detail than most vector styled iOS games within the different ships and enemies. The backgrounds are all pretty much the same, but each time you play, the background and enemies will all be different colors. There's red, blue, green and yellow, and each time you play, two of these colors are chosen. The music is your typical pumping electronica music, but, like most games, it fits in very well with the action.
Now, with the power-ups, they are all the same for each of the 3 ships, there's two types of bombs, once regular, and one electrical. The regular bomb blows up everything within it's radius, and can cause a chain reaction, but generally not a big one. The electrical bomb shocks everything in it's radius, and jumps from ship to ship if they're close enough, so you could, in theory, clear out an entire screen of enemies if you time running into this electrical bomb just right. The clock power-up slows down all the enemies on the screen for a short period of time, making it easier to escape large groups of enemies that are the opposite color of your ship, helping you build your combo score even higher. There's also a power up that boosts your ship in the tilted direction, flying through, and destroying, any ships in it's way, a seeker bomb, which sends out 6 different missiles, seeking out any enemies on the screen. Then, of course, there's a shield power-up, and a power-up that refills your ability icon.
As for the abilities; they are different for each ship. There is a slow, average, and fast ship, each also having different firing attributes. The slow ship, called the "Steinway", fires long projectiles out of a narrow section of the front of the ship, and it's special ability is sending out 4 drones, 2 of each color. These drones don't last long, but they can clear out quite a large group of enemies if used right. The average ship, called "Deadeye" shoots a short projectile out of a wide area of the front of the ship, and it's special ability is called "Starburst", which sends out a burst of colorless material in 8 directions, destroying everything in it's path. The 3rd ship is the fast ship, and it's called the "Preacher". It's able to shot in all directions, but it only shoots enemies that are close to it. It's special ability is being able to change every ship on screen into the current color of the ship, making it pretty easy to build up a huge combo pretty quickly.
There is only one mode within FlipShip, but you are given 6 different difficulties; Very Easy, Easy, Medium, Hard, Very Hard and Insane. All of the different difficulties are on the same difficulty scale, but starting on the harder difficulties starts the game off harder, stays harder, and increases the difficulty quicker. Each different difficulty effects the enemy spawning rate, their speed, what enemy patterns you will see, and how difficult those patterns will be. So really, if you start a game on Very Easy, and you're good enough, you can make it to the Insane difficulty gameplay. It will just take you longer than if you start out on any difficulty above Very Easy. Insane difficulty throws you right into the hardest difficulty the game will be. This growth of difficulty makes the game accessible to all gamers, and also gives hardcore gamers quite the challenge. However, making it so that less power-ups were present in harder difficulties, and the players abilities charged slower the harder you started the game off at, would be a nice addition to really separate the difficulty modes a bit more. It would also be great to see more gameplay modes in the future. There's also the feeling that one death is enough to re-start the whole game. If you're playing, and rack up a score of 1 million points with your first life, and end up loosing it before changing colors and banking that score, it really makes more sense to restart the game than to play through your last 2 lives. Some gamers might also find that 6 difficulties is just too many, especially when they're all basically the same. There are also some color combinations that don't mix together too well. For instance, Green and Yellow are a little too much alike, and do not have much contrast. However, Red and Blue, or Blue and Yellow, go together very well, and being able to choose these colors would be great, and would also be a good idea for our color-blind gamers out there.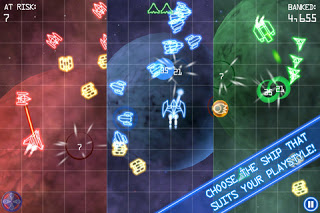 But FlipShip, as it is now, with GameCenter support, leader boards for each of the difficulties, 50 achievements, 3 ships, accessibility to casual and hardcore gamers, and an exceedingly well done addictive risk/reward combo scoring system, $1.99 for the game is a great price, made even better because right now it's on sale for $0.99. It's got tons of style, and some very intense action. ByteSize Games have proven that the Tilt To Live genre is still alive and thriving, and can still be expanded on. If you're a fan of the genre, want a challenge, or are a high-score monger, like myself, FlipShip is a no-brainer must buy. I'm definitely looking forward to future updates, and seeing what ByteSize brings to the table with future games.
FlipShip gets a score of 8 out of 10.
Links;