Infinite Dreams is giving away Jelly Invaders to celebrate the release of their highly anticipated game, Jelly Defense, to be released this Thursday, September 29th. In the game, you press down on your little defender jelly on the bottom of the screen in order to make him shoot. There are two modes – Tactical; which is sort of a mixture of bubble shooter and arcade defense shooter. You have a bar at the top of the screen which lets you know what color shot you'll have, and you'll need to match the colored shot with the different colored enemies. Once they make it to the bottom of the screen, taking your crystals, it's game over.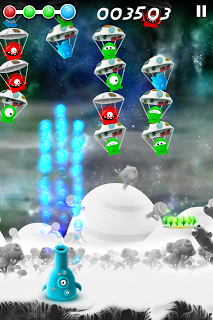 There's also a Survival Mode, which lets you fire constantly at falling enemies, no matter their color. However, different colored enemies require different amounts of firepower to take them out. As in Tactical Mode, once the jellies hit the bottom of the screen, taking your crystals, the game is over.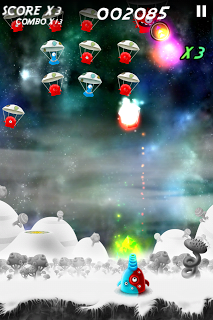 Both modes include power-ups and multipliers to help you get the best score possible. Jelly Invaders was actually the very first Infinite Dreams game I ever got, and ever since, I've been hooked on their releases. So while it's free, I highly recommend you check it out. There's also other Jelly apps by Infinite Dreams that are available for free – including the
Talking Jelly Clock (click to download)
– and
Jelly Chronicles (click to download)
which is a "find the difference" game. Also, remember to keep an eye open for Jelly Defense, the new jelly Tower Defense game, coming out on the 29th!