Zen Wars is based off a old arcade classic called Rampart which featured multi-phase tower defense gameplay. There are 3 different phases to every one turn you get in the game regardless of the mode.  The first, the combat stage is where the player has about 15 seconds to fire on the opposing forces defenses and troops. Then you can rebuild your ramparts and walls to beef up your derisory.  The final stage is where you can place down cannons in the available enclosed space.  Now the catch is that you cant just put your defenses down wherever you want you have different shapes that are offered up each rebuilding period that you have to fit together to encircle your fortress. In your territory you can have up to three fortress which one of which you have to have completely encircled.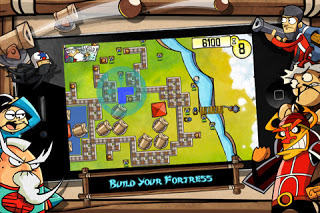 The game comes packed with 3 different modes including a campaign mode.  In the campaign mode you are put in the middle of  certain scenarios that you have to overcome.  Then in the survival mode 4 of those levels in the main campaign are available for unlimited play.  Then comes the coup de grace the multiplayer mode.  A total of 3 players can battle it up over Gamecenter trying to be the last one standing. A interesting feature is that voice chat is included so you can chat with people and make alliances in order to get farther in the round. For example if you want to win a round you can team up with another guy so your chances of winning are improved.  Then after hes dead and out you can disband from the team and test your might against your former allie.  Its definitely alot more fun against real people but the campaign mode is still good for practicing and developing your strategy's for online.
Overall this is a great strategy game that is very fun to play and one of the most in depth strategy games for the ipod platform.  I highly recommend this game, 4.5/5 stars!