iBlast Moki needs no real introduction, the physics-puzzle game from Godzilab is one of the most popular on the iOS, snagging the #2 game spot of all time on metacritic. So when iBlast Moki 2 was announced, everyone was eagerly anticipating this sequel, and for good reason. In iBlast Moki, you use bombs and other items to get Moki's into the portal at the end of each level. The physics are amazing, the level design is top notch, and the environments are varied, and extremely vibrant. The sequel includes even more kinds of bombs and items to help the Moki's reach the portals, the same amazing physics, even more interesting level design, and more vibrant environments, and it takes advantage of retina and HD display. There's also a level editor and a level sharing service thrown in for endless hours of entertainment and fun.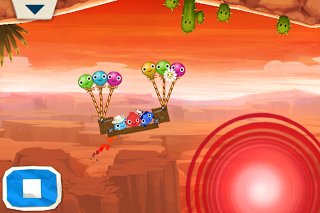 In iBlast Moki 2, you'll encounter some very interesting bombs, and you don't need to play for hours to get into the new game mechanics. They are thrown at you almost from the beginning. Paint bombs that each have different characteristics, ropes, and balloons are some of the first you'll see. There's also objects that you can stick your Moki's to in order to get them to the portals at the end of the levels. In the game, it's your job to place bombs throughout the levels, and set them to go off at specific times in order to fling the Moki's to the end while collecting all the flowers in each stage, and doing it as fast as you can. Your regular bombs are the ones that you'll really have to play with trial and error getting the timing just right, making them explode at just the right time to send your characters off in another direction. This is done easily because the level resets every time you press the stop button in the lower left corner. The paint bombs, however, are more about where you place them, and timing isn't really an issue with these. You're given red, green, and orange bombs. The red acts as a bouncy liquid, and once your characters or any other objects touch it, they bounce up into the air. Green bombs act as glue, making your characters stick to whatever objects get covered in the liquid when the bomb goes off, and orange bombs act as turbo speed bombs, drawing your Moki to them, and shooting them forward at faster speeds.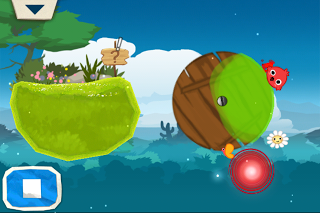 Because iBlast Moki 2 is a physics-puzzle game, the physics are a huge part of it, and Godzilab has done an amazing job with them. Everything feels real, and sometimes it might seem like you'll have to be a physics major in order to get the solutions on the first or second time through the level. I actually would not be surprised if Godzilab had some physics majors help them with this aspect of the game, as they're done so perfectly. This, coupled with the superb level design, add a ton to the challenge of getting up on the high-score board that's in-game in the pause menu. The top 3 scores for each level are shown, and if you'd like, you can pay 1 Moki coin, which you earn throughout the game, to see these top solutions. This, is something that's already upsetting people. Some gamers work for hours on a level trying to get the best score they can, and then their solution, if one of the best, is saved to the server, and accessible to everyone for 1 Moki coin. Godzilab has commented on this issue, and said that they will come up with a fix for it in a future update, but until then, the best solutions for each level are there, ready to be seen by everyone, unless you play offline. This is the only bad issue I can find with iBlast Moki 2 though.
With 90 levels spread across 6 different environments, and a level editor that lets you share and download created levels, there's pretty much endless gameplay. A cut-throat leaderboard helps immensely with the replay value, and like I've said, some people will spend hours with one level, and some might even spend weeks creating one. iBlast Moki 2 could very well end up being the best puzzle game in 2011, maybe even the best puzzle game for the iOS, period. The scoring mechanics are great, the graphics are cute and polished, physics are perfect, level design is mind bending, and the gameplay is endless. For $3, it'll be pretty much impossible to find a better puzzle game out there. It's highly recommended to fans of the genre, and new-comers to the scene alike, and is on sale for launch, so you can grab it now for a buck! The universal version is $3, and should shoot up to $5 soon. If you don't have it yet, make sure you get it soon, because it's going to be a game that you end up buying eventually after hearing everyone you know talk about it.
I'm giving iBlast Moki 2 a score of 5/5, with a strong recommendation to get it now.