Apple announced on Thursday of last week that it will be making its CareKit available via the open source community at GitHub.
This is one of two other frameworks by Apple that is designed to help Healthcare professionals. The purpose behind it is to provide tools to create applications and gives users an increased role in the management of health care. It will allow people to monitor medications and symptoms in order to share that information with their healthcare practitioner in order to improve their overall health.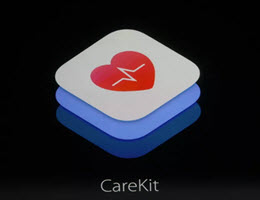 At this time, four applications utilize this framework. The first of those is one that tracks pregnancy for those expecting, log activity, and locate information about what new moms can expect throughout their pregnancy. Glow Baby follows up on this and permits new mothers to maintain and track schedules for feeding and the growth of their infant.
One Drop, a management app for diabetes allows its users to logs food, glucose, activity, and meds. It also lets the monitoring of blood glucose through the use of Bluetooth. Finally, Iodine's Start is a management symbol that monitors depression to help identify which medications are effective for patients and further allows for the use of a daily log to identify side-effects.
The hope is that the focus on health care will change the way people view and use apps. It is hoped that this will impact the way apps towards health care are developed. It provides the basic tools needed to create apps for this sector and is felt to be a stepping stone towards more digital friendly apps.