It's rhythm! No, it's puzzle! Actually, it's both: Rhythm
AND puzzle! Simogo's Beat Sneak Bandit is a rhythm puzzle game where you
attempt to sneak your away around police officers, spotlights, and vacuums and
you attempt to save the city from a terrible misfortune brought by Sir Duke.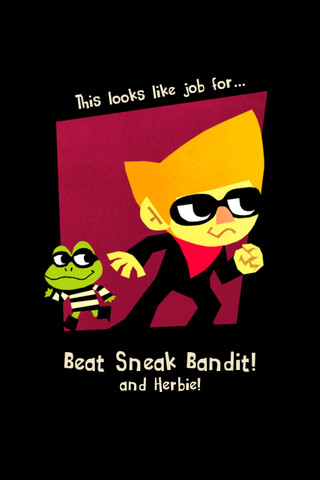 Gameplay
The core of Beak Sneak Bandit's gameplay lies in its simple
one-tap control. You tap to move, turn around if you're facing a wall, and
climb stairs. With that, every level is presented as a puzzle, with obstacles
such as police officers who cause you to fail if they see you, moving
platforms, and buttons that open or close walls (which works both ways, because
the wall allows you to turn around). As you move around, you attempt to collect 4
clocks as well as reach a final 5th clock. Basically, it's your
classic 3-star level, but with 4 now. At the very heart, Beat Sneak Bandit is a
basic puzzle game, however, when you add the rhythm element into the genre, it
becomes a totally new game; it's now a music puzzler. What's fascinating is
that the focus is not on a person's ability to perform rhythms; the time
signature is in 4/4, and you simply tap on one of the four quarter note beats
to move. Instead, the game is about your ability to observe patterns in the
level. As every obstacle makes a noise when they perform an action, you put
your auditory skills and combine them with your visual skills to plan out your
action, and these two elements blend perfectly. I cannot say how much joy I've
gotten out of this game; it's not just how fun it is, but how utterly creative
it's core element is; I've never seen it done before and it just works
splendidly.
As a music aficionado, you can say that I may favor music
games, but I can always easily find any flaws within the game. I can say with
confidence that there are none to be found. However, those that do have trouble
with rhythm may find the difficulty to be high, but I personally found the
overall game to have a nice difficulty curve.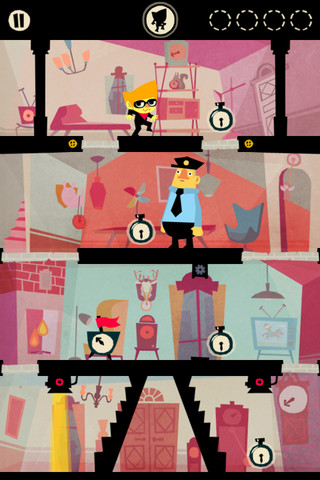 Presentation
Beat Sneak Bandit presents itself in a charming, funky sort
of way, loaded with personality. I do have some minor complaints about the
level select system, as you need to scroll through levels instead of simply
picking one. Overall though, the game executes itself extremely well and is a
refined piece of art. I can honestly say, it's games like these that make me
appreciate videogames as art.
Graphics
Flows well, no lag or crashing, and the artwork is nice and
bright. It's everything you could ask for. I don't need to say anymore.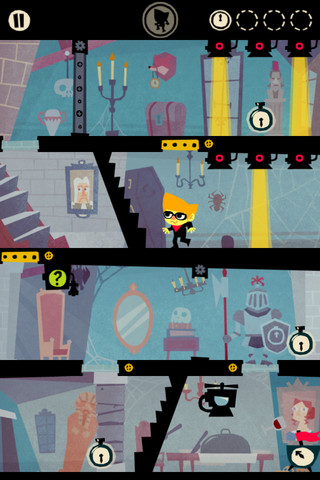 Sound
Oddly enough, as a music game, the music soundtrack isn't as
amazing as I thought it would be. With that said, there is nothing wrong with
the funk and jazz tracks that it brings, as well as the noticeable music cues
to aid your timing in the game; it's still a strong element.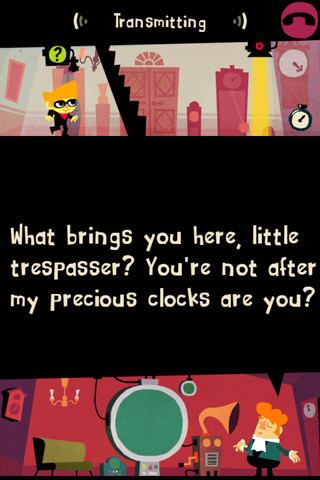 Replay
Beak Sneak Bandit offers 40 core levels, 16 shadow levels,
12 remix levels, and 1 boss level, for a grand total of 69 levels. Considering
how each level might take a few tries to learn the pattern, you'll be spending
a decent amount of time trying to figure out how to 4-clock every level. It's a
game that will last you a decent amount of time, and if you're still not done,
then go for the achievements from Game Center.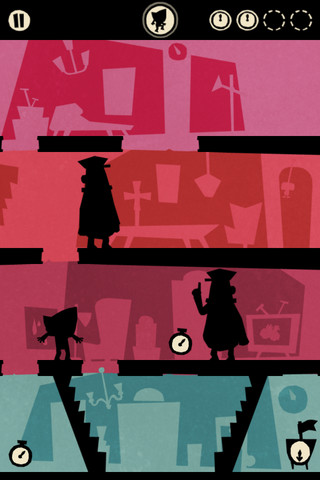 Conclusion
Unless you're continuously had dreadful experiences with any
type of music or rhythm game, you'll find Beat Sneak Bandit an immersive and
unique experience. You're not simply playing the game, but when you play, you'll
have immense appreciation for the game. And that's why I can say with full confidence,
Beat Sneak Bandit will be a top contender for Game of the Year.