Remakes of old classics, as well as ports of old-school titles happen to be something I find very hard to resist, and in the AppStore, there's more than just a few of these titles available. The most recent one to hit my device is Spy Vs. Spy, originally developed by First Star Software in 1984 for the Atari, Commodore 64, and Apple II computers and ported over to numerous platforms, this time around, has been remade by the fairly new Canadian development studio, Robots And Pencils.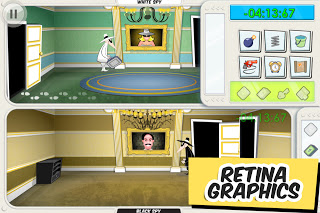 One thing that absolutely love about this version of Spy Vs. Spy is that it includes the original Atari version alongside the remake, and you can change to the retro version before starting any level simply by hitting 'Retro' on the level select screen! Now, Spy Vs. Spy is a blast to play, especially when you've got another player. I can still remember staying at a friends house when I was a kid, up all night playing this game. And you guessed it; this iOS version of Spy Vs. Spy includes both Local (through Bluetooth) as well as Online (through GameCenter) Multiplayer. 
If you've never had the pleasure of playing Spy Vs. Spy, it's an old-school arcade type title that has you playing as one of the Spy characters trying to collect 4 different items that are hidden inside of different rooms. While you're doing this, the other Spy character is also trying to find these 4 different items. Included, of course, are various traps which you can set up in order to spoil the other players progress. These include water buckets on top of doors, hidden bombs and guns attached to strings on doors and more.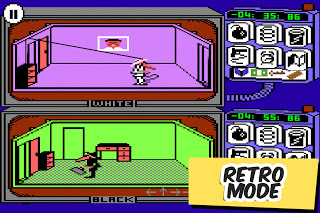 There's a couple of ways you can play Spy Vs. Spy. As you make your way through each collection of rooms, you can either search for the briefcase, which lets you hold all of the items at once, or, you can search through all of the rooms, looking for each item one at a time, and then figure out where to hide it until you've found all 4 items, either way, you do need to find the briefcase before exiting the level, but this way, you're able to trap wherever it is that you're hiding your items, and you don't run the risk of running into the other Spy with all of the items on you. Once you enter the room where the other Spy is, you drop all of the items that you're holding and they go into the nearest hiding spot. Then you either need to get out of the room as quickly as possible, or fight, and beat up, the other Spy so that you can leave with all of the items that you've both collected. There's also a third option; you can sit in the room with the exit door, and wait for the other Spy to collect each of the 4 items, and then beat them up when they enter. Doing this is risky, and isn't recommended unless you have no other choice. There's also an added search going on along-side the search for the 4 items; looking for stars. Each level has a possible 3 star ranking, and however many stars you find in each level is what your ranking will be. All of the stars and items can be seen on your map, which is readily accessible in a slide-out menu with all of your traps.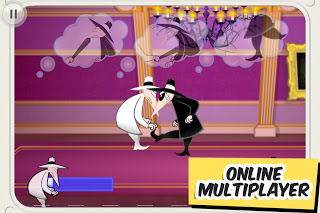 All of this sounds well and good, especially if you're playing in a multiplayer mode. It can be hours and hours of fun. However, there is one big stand out issue with this version of the game; the controls. Instead of using a typical old-school type lay-out, with a d-pad and buttons, Spy Vs. Spy has a floating d-pad, which is very hard to control, and buttons that appear at the top of the screen when you're face to face, fighting the other Spy. In order to look behind objects, a tap anywhere on the screen does it. It is usable, but unfortunately, the movement controls still need some tightening up, and the buttons at the top of the screen for fighting are kind of awkwardly placed. Hopefully this is quickly fixed in an update, because other than this, it's fantastic having this old-school hide-and-seek game on our phones/tablets, especially with the online multiplayer.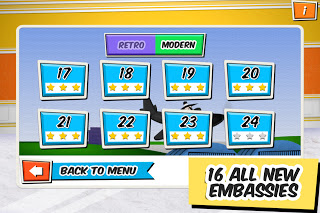 Specially priced at $0.99 for launch (originally $1.99), it's a great buy, and is definitely worth picking up, if nothing else, for the nostalgia value. GameCenter is supported, with leaderboards for each of the 24 levels as well as a board for how many total wins for multiplayer mode, and 29 achievements. The developers are listening to player feedback, and I have a lot of faith that the controls will be handled, but at the moment, it's kind of hit or miss. Some people can get use to the controls, while others have been rage-deleting the game after getting fed up with them. For $0.99, it's definitely worth finding out which group you fit into, and if you're the second, at least you'll have the game, and be ready to play it once the control issues are dealt with.