Ayopa Games has quickly become one of our favorite publishers here at The App Shack. Their first release,
W.E.L.D.E.R.
was a huge hit, getting named Apple's Game Of The Week, along with loads of attention from iOS sites and gamers all over the world. Though this first release isn't really what got our attention. Also released the same day as
W.E.L.D.E.R.
was
Chicken Rescue
, a game more directed at kids, but having quite a bit of issues relating to the controls, framerate, and some various other gameplay issues.
Chicken Rescue
quickly received multiple updates based on user feedback, becoming a very polished and entertaining title.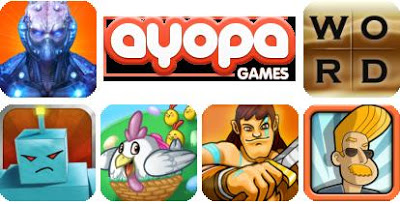 After that,
Big Bot Smash
was released, and it also had it's share of issues, which again, were fixed very quickly based on user feedback.
M.U.S.E., Mailmen,
and
Dungeon Crawlers
pretty much all went through the same thing. Problems with controls, followed by quick updates after the developers of those titles got active within the gaming community, and listened to player feedback. This is why Ayopa has become one of our favorite publishers. Every single one of the games that they've published has had developers that have gotten their hands dirty, been able to admit that their game's first version wasn't perfect, listened to player feedback, and quickly fixed whatever issues were brought up. Ayopa also being very responsive in passing on user feedback to the developers also helps quite a bit. They're a publishing company who's very interested in user feedback, and also releases games from developers who feel the same. Not to mention, every single one of the releases that has gone through Ayopa has wound up being a top notch, highly entertaining gaming experience.
So when we got e-mails saying that their next title,
MacGuffin's Curse
, was coming to the AppStore this Aril 19th, we got very excited. This time around, Australian developer Andrew Goulding's company,
Brawsome
(who in 2010 won Freeplay's "Best Australian Game" for the PC/Mac title
Jolly Rover
) is bringing unique puzzler,
MacGuffin's Curse
to the iDevice, as well as Steam and the Mac Store.
MacGuffin's Curse has you playing as a magician turned thief, MacGuffin, who winds up needing to steal a diamond to pay the rent. Things don't go as planned, and MacGuffin winds up being forced to steal the diamond for an ex-detective. Putting the diamond around his neck, MacGuffin turns into a werewolf, capable of moving large objects, and smashing blockades along the citywide security system. You're able to change between human and wolf forms whenever touching the moonlight, and will need to constantly switch between the two to make it through each of the puzzles, unravelling a witty and humorous plot.
This top-down adventure is full of fantastically hand-drawn art set up as a comic that you'll be able to explore and find pieces of throughout the game, has simple swipe-drag-tap controls, hundreds of puzzles increasing in difficulty as you progress throughout the game, catchy music, a great cast of characters, and smooth, entertaining gameplay. Published by Ayopa,
MacGuffin's Curse
will be available for purchase in the AppStore (for iPhone, iPod, and iPad), Mac Store, and Steam on Thursday, April 19th. Make sure to keep an eye open for it, and also check out some extra information, screens, and videos on both the
Ayopa
and
Brawsome
Websites.