Traveling to places you've never seen can be very exciting, but also somewhat nerve wrecking, which is why various app developers have come up with ways to make the entire experience more enjoyable by proving you with apps that help book, plan, and search for places. These apps have been designed to assist with each part of your trip starting from the very first moment you decide to travel. Some apps can offer great prices on flights, hotels, and car rentals. Travelers can also use apps to find places once they have arrived at their destination to find restaurants, friends, and anything else they might need.
Here is a list of apps that will provide you with the best features and options to make your travel experience a lot easier and fun. These apps cover various parts of your trip, starting with the planning.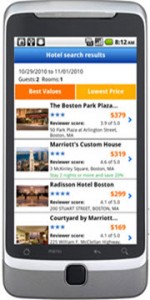 Orbitz
Orbitz is one of the very best apps to find flights, hotels, and car rentals, no matter where you travel to. The app can find the best flights on various airlines within seconds, which can be categorized into price ranges, travel time, or airlines. The app will also offer hundreds of hotels worldwide and provide you with accurate prices and accommodation. Car rentals include various options, which gives you the best prices for the motor vehicle size you want. All these can be booked on the app with easy payment options. The app also comes with rewards, which is earned with each booking. This will allow you to get a discount on booking or your next trip.
Citymapper
Citymapper is the perfect app to get around once you've arrived in the city you are visiting. This app provides you with the best and quickest way to get around using city transport systems. The app automatically checks the route with buses, trains, ferries, and more to get you wherever you want to go. The app uses real-time tracking to ensure all these services are on time and that you are will make it in time.
Google Maps
Google Maps will provide users with all the latest coffee shops, entertainment, restaurants, and much more with just a search. Open maps and search for anything you want and find various options closest to your current location. The app can also provide you with travel times and options including public transport, driving yourself, or taking a walk.