Millions from around the world have been patiently waiting for the iPhone 7 to become finally available. Apple has been very secretive about the device and hasn't released any info about the new device. However, there are a few experts that have put pieces of the puzzle together to provide us with a fairly good idea of what to expect. Here are some of the most recent rumors about the iPhone 7.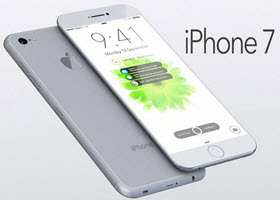 Firstly, we are expecting a launch with 2 device, which consists of the iPhone 7 and the 7 Plus. These devices will only again feature a smaller screen, and the Plus will have the bigger screen. Regarding the actual size, we think they will remain about the same as the current iPhone 6 and 6 Plus, which is a bonus as the current phones fit comfortably in your hand and are easy to use with the double-tap on the home button. The new iPhone will be thinner as info has leaked that Apple has managed to make the 3D screen technology thinner, which means they will not require the additional space. We are not expecting a massive drop in thickness as this will once again make the device uncomfortable.
The current antenna lines around the iPhone 6s will remain in place, but it is expected to be less. Many say only the outer edge line will remain while others say only the strips across the back of the device will continue to be. We are confident that some lines will be removed without affecting the current signal strength.
With the camera, it can go many ways as technology regarding cameras has changed a lot in the last year. However, there have been rumors that Apple will be added a dual lens camera. This will allow users to capture amazing wide angle photos, get better color balance, and also have the advantage of many more options.
The iPhone 7 might also have a few change to the charging compartment at the bottom of the device. Instead of a lightning charger, we are expecting a magnet charger as found on their laptops and the new iPad Pro. This will allow for other 3rd party devices to be connected quickly and charging to be faster.